FBI Looking For Woman Who Stole Nancy Pelosi's Laptop To 'Sell To Russia'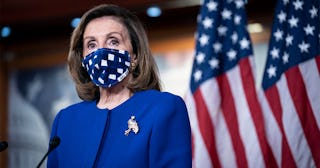 Sarah Silbiger/Getty
Williams is said to be "gone" according to her mother
The FBI has issued a warrant for a woman identified as a part of the mob that overtook the Capitol on January 6 who may have stolen a laptop belonging to House Speaker Nancy Pelosi.
The warrant, filed late Sunday, alleges the woman stole a laptop computer or hard drive from Pelosi's office with the intent of funneling the device to Russia's foreign intelligence agency. The woman, named Riley June Williams from Pennsylvania, is being additionally being charged with entering a restricted building, disrupting the orderly conduct of government, and engaging in disorderly or disruptive conduct.
According to one witness, described as a former romantic partner of Williams, the accused "intended to send the computer device to a friend in Russia, who then planned to sell the device to SVR, Russia's foreign intelligence service."
They also said, "for unknown reasons" the plan fell through and that Williams "still has the computer device or destroyed it."
"During national news coverage of the aforementioned events, video footage which appeared to be captured on mobile devices of persons present on the scene depicted evidence of violations of local and federal law," the warrant continued, "including scores of individuals inside the U.S. Capitol building without authority to be there."
Some of the video footage included people searching through the speaker's office, ripping a nameplate from above her door, and sitting in her chair. Drew Hammill, Pelosi's chief of staff, confirmed in a tweet that a laptop "only used for presentations" had been stolen from a room in the speaker's office.
The warrant then goes into detail about a video showing Williams during her time in the Capitol, including a detailed description. It is a 32-minute long video, with audio, called "Storming the Capitol: The Inside Story," from ITV News, a British television network.
The witness also stated that "Williams can be seen directing crowds inside the U.S. Capitol Building up a staircase."
"At or about 20 minutes and 40 seconds into the video, there appears at the bottom of a staircase the subject, believed to be WILLIAMS, a Caucasian female wearing a green t-shirt and brown trench coat and carrying a black-and-white striped zebra-print bag over her shoulders," the warrant reads. "She has brown shoulder-length hair and wears eyeglasses. She is wearing a black face mask below her chin, around her neck." The FBI is working with William's mother, who identified her daughter in the video and said she'd "taken a sudden interest in President Trump's politics and 'far-right message boards.'"
"This matter remains under investigation," the FBI said.