You Can Now Buy 'F*ck Kavanaugh' Lipstick For All Your Friends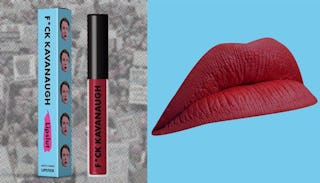 Image via Lipslut
This new "F*ck Kavanaugh" lipstick was created for a very good cause
After Supreme Court nominee Brett Kavanaugh was accused of sexual assault, he took to the stand to rant, rave, wildly twitch, and randomly yell about the Clintons. For those of you who watched his testimony and wanted to throw your computer directly out the window, this post is written just for you. The brand Lipslut has released a new shade aptly titled "F*ck Kavanaugh" with all proceeds going to anti-sexual assault organizations.
Bonus points: it's berry red and features a very funny picture of Kavanaugh modeling the lipstick.
Katie Sons, the founder of Lipslut, knew she needed to take proactive action after watching last week's hearing.
"I got so upset seeing women's voices being ignored, doubted, and flat-out denied," she told Refinery29. "If the highest levels of government won't listen to us, who will? To me, this entire mess serves as a microcosm for how thousands of women's experiences and traumas are treated everyday — we had to act."
Sons decided to create a new lipstick shade called "F*ck Kavanaugh" (A+ title) and donate the proceeds to organizations that are working to end sexual violence. "After seeing Kavanaugh's hotheadedness at the hearing, we thought a 'calm, cool, and collected' shade would be fitting," she noted. "Imagine a cool-toned maroon."
https://www.instagram.com/p/BoRjwg4hjUD/?hl=en&taken-by=hello.lipslut
If you preorder the lipstick between Tuesday and Sunday, all proceeds will go to organizations like RAINN, National Alliance to End Sexual Violence, and NO MORE. So, basically, you're buying a killer red lipstick all in the name of some very, very good causes.
Lipslut was created as a direct result of the messy, dark state of our country right now. According to its website, the brand is "fashion, subversion, and a middle finger to the current sociopolitical landscape."
They made their debut in 2017 with a lipstick color titled "F*ck Trump." It comes in mid-tone nude pink and 50% of proceeds go to civil rights organizations. At one point, there was also a color called "F*ck Hollywood," which was created after the Harvey Weinstein abuse allegations surfaced. Half of those proceeds went to anti-sexual assault organizations.
It's very, very easy to feel helpless watching this whole awful Kavanaugh situation unfold. Hopefully a socially conscious bright red lipstick will add just the tiniest bit of sunshine to an otherwise ridiculously painful situation.