The FDA's Officially Approved A Generic Competitor For The EpiPen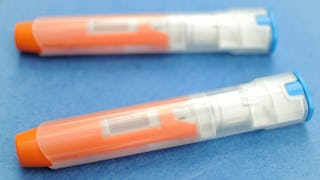 Image via carriecaptures/Getty Images
The EpiPen can be very expensive for families — but a new generic version could change that
The Food and Drug Administration (FDA) has approved a generic competitor for the extremely expensive EpiPen, a move that will get the ball rolling for cheaper competition that could result in lower prices. The news is a huge victory for parents who've had to shell out hundreds of dollars to make sure their kids who have allergies have access to the life-saving drug.
The Israeli drug company Teva Pharmaceuticals is putting out the generic version, which won't carry the EpiPen name. It was approved after new FDA guidance for generic copies of drugs like EpiPen, which works as a medication inside of a device that delivers it rapidly to help those with serious allergic reactions.
"This approval means patients living with severe allergies who require constant access to lifesaving epinephrine should have a lower-cost option, as well as another approved product to help protect against potential drug shortages," says FDA Commissioner Dr. Scott Gottlieb in a statement.
There are already alternatives to EpiPen, sold by drug manufacturer Mylan, but the alternatives have different designs than the EpiPen and are not authorized copies. Gottlieb says, "These products can be hard to copy, and therefore sometimes don't face timely generic competition once patents and exclusivities are no longer a block to approval."
Following backlash in 2016, Mylan lowered the cost of the EpiPen from $600 a pair to $300 for the life-saving drug, which is very nice of them, but complete highway robbery considering they only cost $30 to make. The pens need to be replaced annually, and in order for kids to have an adequate supply for home and school, that meant families were on the hook for as much as $1200. Which is completely disgusting and ridiculous for a medication needed by children who may otherwise die of a severe allergic reaction.
Teva has not yet confirmed how much their version of the drug will cost. "We're applying our full resources to this important launch in the coming months and eager to begin supplying the market," they said in a statement.
The news of a generic competitor is a relief for supply as much as it is for cost — there's often shortages of EpiPens, and actually, the issue is being reported right now in certain areas. The FDA isn't reporting any major shortages, but spot shortages are happening with the start of the new school year as families scramble to have the drug available for their child.
Hopefully, the generic version coming into play will help keep prices lower all around. The last thing a family dealing with a life-threatening allergy needs is to worry that they can't afford the life-saving treatment available.