FDA Warns Popular Asthma Medication For Kids Linked To Suicide And Depression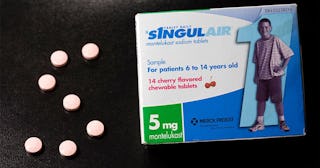 Rick Friedman/Getty
The FDA says montelukast — found in Singulair — will receive its most serious warning
The FDA's most serious warning, a "Black Box Warning" will now be found on the packaging for popular asthma and allergy medication from now on. Montelukast, of the brand name Singulair, is linked to "serious mental health side effects" and should not be prescribed unless there are no other medical option for sufferers.
The FDA says the dangerous side effects include "agitation, depression, sleeping problems, and suicidal thoughts and actions." Concerns were first raised after a 2017 Netherlands study linked the drug to depression and nightmares in children. A 2018 Australian Broadcast Company report also says the country's version of the FDA, the Therapeutic Goods Administration, received 167 reports of "psychiatric events in children and adolescents" from 2000-2017. The TGA placed warnings on boxes of the drug beginning in 2018.
"Because of the risk of mental health side effects, the benefits of montelukast may not outweigh the risks in some patients, particularly when the symptoms of the disease may be mild and adequately treated with other medicines," the FDA says. "In addition, many health care professionals and patients/caregivers are not aware of the risk of mental health side effects despite the existing warnings in the prescribing information."
According to the FDA, a wide variety of mental health side effects have been reported, including completed suicides. Some occurred during montelukast treatment and resolved after stopping the medicine. Other reports indicated that mental health side effects developed or continued after stopping montelukast.
In 2018, approximately 9.3 million patients of any age received a prescription for montelukast in the U.S. Of these, approximately 2.3 million were children younger than 17 years old.
If you're a parent of a child who takes Singulair, the FDA suggests talking with the child's healthcare professional about stopping use of the drug right away if your child is experiencing behavior or mood-related changes while taking it.
These may include:
agitation, including aggressive behavior or hostility
attention problems bad or vivid dreams depression disorientation or confusion feeling anxious hallucinations (seeing or hearing things that are not really there) irritability memory problems obsessive-compulsive symptoms restlessness sleepwalking stuttering suicidal thoughts and actions tremor or shakiness trouble sleeping uncontrolled muscle movements
Scary Mommy talked to the Executive Medical Director of the American College of Allergy, Asthma and Immunology (ACAAI), Michael Blaiss, MD. And the biggest message he had for parents was not to panic. "All medicines have side effects. It's important to differentiate whether your child is taking the montelukast for allergic rhinitis or asthma. If your child is taking it for allergic rhinitis, there are plenty of good options out there if you're concerned about this warning," he explained. As for taking it for asthma, he explained that it's important to consider your family's history of mental health issues and whether or not your child is exhibiting side effects. "Consult your pediatrician and discuss whether it's still the appropriate drug for your child," Dr. Blaiss advised.
Another important message he gave us, was that your child should never be missing out on any activities because of their asthma symptoms. If you don't feel like their symptoms are being controlled and you haven't yet seen an allergist — it may be time for a visit.
Based on their research (beginning when the drug was first introduced in 1998), the FDA determined that the risks of montelukast may outweigh the benefits in some patients, particularly when the symptoms of the disease are mild and can be adequately treated with alternative medications or therapies.
"Due to the wide availability of alternative safe and effective allergy medicines with long histories of safety, we have reevaluated the risks and benefits of montelukast and have determined it should not be the first choice treatment particularly when allergic rhinitis symptoms are mild," the FDA says. If you're suffering from pregnancy rhinitis, be sure to consult your doctor.
Doctors, pharmacists, and other healthcare professionals are encouraged to report side effects from montelukast to the FDA's MedWatch program.
This article was originally published on