FDA Panel Recommends Pfizer's COVID Vaccine For Kids Ages 5 -11
by Valerie Williams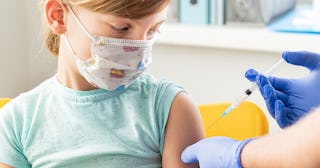 Ira Lichi/Shutterstock
Pfizer's COVID-19 vaccine for kids ages 5-11 could be available as early as next week following FDA endorsement
Great news today for parents who can't wait to vaccinate their younger kids for COVID-19. An advisory committee to the Food and Drug Administration (FDA) has voted to recommend the use of Pfizer's shot for kids ages 5-11, which means 28 million children are that much closer to being vaccinated.
According to The New York Times, shots could be available to the age group as early as next week, meaning kids could be fully vaccinated around Thanksgiving and well before Christmas. The dose endorsed by the FDA panel is one-third of the size of the dose given to people age 12 and older with doses spaced apart by three weeks. It's important to note that the committee's recommendations aren't the last word on full approval, but the FDA usually follows within days of the panel's vote.
The Centers for Disease Control and Prevention (CDC) has its own panel scheduled for next week. The FDA's panel voting means the CDC panel is next to weigh in on the safety of the vaccine for kids.
The Times reports that the FDA's outside experts voted "overwhelmingly" in favor after regulators argued over the dangers of the virus to kids ages 5-11, noting that thousands of kids in the age group have been hospitalized by complications of the illness and nearly 100 have died since the start of the COVID-19 pandemic. Out of 18 committee members, 17 voted in favor and one abstained.
Some committee members did question whether all kids in the 5-11 age group need the vaccine or whether it should be limited to kids at higher risk of developing more serious illness. FDA panelist Dr. Paul Offit, head of the Vaccine Education Center as Children's Hospital of Philadelphia, called the decision on whether or not to make the shot available to millions of kids after studies involving only a few thousand participants "nerve-wracking."
Offit said, "The question is when do you know enough? And I think we certainly know that there are many children between 5 and 11 years of age who are susceptible to this disease who could very well be sick and are hospitalized or die from it."
Dr. Peter Marks, head of the FDA's division overseeing vaccine approvals, noted that COVID is now a top ten cause of death among kids in this age group, pointing out that of about two million kids infected, 8,300 have been hospitalized due to their illness with a third ending up in intensive care.
CDC viral diseases specialist Dr. Fiona Havers makes the crucial point that COVID hospitalization rates in the 5-11 age group are three times as high for Black, Hispanic, or Native American children as they are for white children. She also notes that over 2,000 schools have been forced to close from early August until this month because of outbreaks. The number of students affected by those closures totals over one million.
Recently, FDA scientists concluded that the benefits of kids ages 5-11 avoiding COVID by way of the vaccine largely outweighed the risks of the shot's potential side effects.