FDA Again Warns Parents: Don't Give Babies Homeopathic Teething Products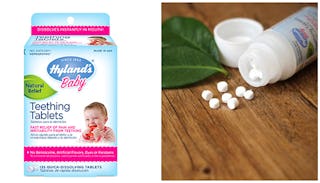 Hyland's is discontinuing their teething tablets and gels, but they are not recalling
I did it. My friends did it. Practically everyone I know who had a baby before Sept. 30, 2016 did it. When our babies started drooling, and crying, and grabbing at their gums, we reached for one of the only medications we knew would help: Hyland's Teething Tablets. They were natural, after all, and natural was better than pharmaceutical, right? Homeopathic meant it couldn't actually hurt our baby, because homeopathic medicines' active ingredients are so far diluted as to be undetectable. What did we have to lose?
A lot, according to Freedom of Information Act records obtained by STAT News this week.
The FDA first put Hyland's in its sights back in 2010, when the company issued a voluntary recall of their Teething Tablets. The homeopathic remedy contained "a small amount of belladonna", the FDA said, which "can cause serious harm at larger doses." Unfortunately, lab testing showed that "Hyland's Teething Tablets contain an inconsistent amounts of belladonna." That turns your average ineffective homeopathic med into what a layman might call poison.
The FDA received its first report of tying Hyland's to possible injury in 2006. And since that 2010 warning, there's been a steady flow of reports, STAT found. These include seizures, repeated seizures, uncontrollable twitching in the hands and feet, delirium, loss of consciousness, and death. "After using Hyland [sic] Teething Tablets on my 5 mo old grandson for the first time he died in his sleep," says one report.
At the end of last September, the FDA released a statement "warning consumers that homeopathic teething tablets and gels may pose a risk to infants and children… Consumers should seek medical care immediately if their child experiences seizures, difficulty breathing, lethargy, excessive sleepiness, muscle weakness, skin flushing, constipation, difficulty urinating, or agitation after using homeopathic teething tablets or gels."
In a statement issued just after that, Hyland's said they had decided to pull their teething products, partially because the FDA warning had created "confusion among parents." However, they maintained that their products "including those you already have, are safe for use." So although they pulled them off the shelves, they didn't issue a voluntary recall.
The records STAT obtained create a far different picture. From 2010 to 2016, the FDA investigated a whopping 370 of those "adverse events," that occurred after children were given Hyland's Teething Tablets or Gel. These events included eight deaths, though, as STAT writes, "the FDA says the question of whether the products caused the deaths is still under review."
Partially because of the lack of scientific evidence that they work, homeopathic medicines aren't required to prove their effectiveness before they hit the market. "Homeopathic remedies are regulated by the U.S. Food and Drug Administration (FDA). However, FDA does not evaluate the remedies for safety or effectiveness," the FDA site explains.
After the 2010 warning, many parents whose children experienced "adverse effects" wrote to the FDA in a rage, demanding to know why the tablets and gel were still being sold. "Please do something!" begged one woman whose child underwent multiple seizures in 2012.
On January 27 of this year, the FDA issued yet another warning about Hyland's Teething Tablets. "Laboratory analysis found inconsistent amounts of belladonna, a toxic substance, in certain homeopathic teething tablets, sometimes far exceeding the amount claimed on the label," the warning said. It urged customers "not use to these products." Hyland's has stopped manufacturing the products, but is still not issuing a voluntary recall.
Despite the 370 cases they have on hand, plus evidence of fluctuating levels of deadly nightshade, the FDA has no authority to issue a recall of homeopathic products. The agency is also "not aware of any proven health benefit of this product."
Why isn't Hyland's recalling products that consumers may have, even though they are discontinuing the product? The company says on their website, "Hyland's remains confident in the safety of our products and has not been presented any data or information that contradicts the data we have."