Federal Employees Are Using Food Banks To Feed Their Families During Shutdown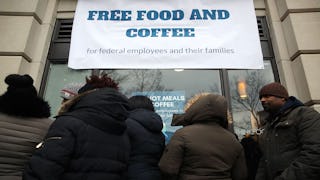 Image via Mark Wilson/Getty
Food banks across the country are seeing a huge spike in requests for food directly related to the government shutdown
With Trump's government shutdown now entering its fourth week, federal employees who have been furloughed are turning to food banks to help feed their families. Because this is what life is like for people who are prevented from working and aren't earning a paycheck — they can't afford to eat.
Last weekend in the D.C. area, more than 2,400 people showed up at five different "pop-up markets" for furloughed federal employees and contractors, sponsored by the Capital Area Food Bank. The attendance was more than twice the anticipated amount.
Many food pantries across the country are seeing a major increase in demand for food, directly related to the shutdown. Capital Area Food Bank CEO Radha Muthiah tells CNN more than 50 calls per day from people looking for nearby food pantries are coming in from the D.C., Virginia, and Maryland area — a 15-20% increase from this time last year.
The Central Pennsylvania Food Bank started a federal shutdown food assistance program to serve 25,000 federal employees, CNN reports.
During the past two weeks of the shutdown, more than 280 federal employees have relied on the Catholic Community Services of Northern Utah food bank — which is a 50% increase over the regular clients who use the food bank this time of year.
Restaurants and bars are also chipping in to do their part during the shutdown. Chef José Andrés opened a pop-up kitchen in the D.C. area this week, to help feed federal employees and contractors.
Another initiative, Pay It Furloughed, allows people all over the country to donate beers to furloughed employees. "Beer makes everything better, so we're buying local craft brews for federal employees impacted by the government shutdown," the site says.
If you're looking for a way to help hungry, unpaid federal workers feed their families, you can donate to a local food bank helping furloughed employees, or D.C.'s Capital Area Food Bank's Hunger Lifeline.
Even after these employees resume work and collecting paychecks, it's going to take a while for them to get back on their feet. Weeks of missed utility payments, rent or mortgage payments, and just generally struggling to get by takes a massive toll on everyone affected.
Here's hoping the longest presidential tantrum in political history results in these good, hard-working people actually being paid for their work as soon as possible.