This Is What Federal Employee Paystubs Look Like Right Now
by Cassandra Stone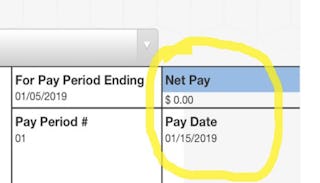 Image via Twitter/@CNNJason
This is what it looks like when you work full-time for no pay
The government shutdown is in its third week, which means many of the 800,000 federal employees who have been impacted are beginning to see it reflected in their paychecks.
Or lack thereof.
William Stiffler, an air traffic controller at Newark Liberty International Airport in New Jersey, shared an image of today's paystub with CNN. Despite working 64 hours during this pay period, his net pay is $0.00.
Also? His wife is 39 weeks pregnant. She's literally due next week and her husband, who has been working full-time at a notoriously high-stress job, is not being paid due to Trump's partial government shutdown.
All because Trump is holding his breath and stomping around the Oval Office, waiting for someone to tell him he can build a wasteful, ridiculous border wall.
"We've been working knowing that it was coming, and when it hit yesterday, it really hit," he tells CNN. "This should be one of the happiest moments of our lives," he said, "and we have this hanging over our heads. And it's really an unfortunate situation to have to worry about."
Striffler isn't alone, of course. Many other federal employees are in the same boat, and sharing their own dismal pay stubs.
More than 4,700 federal employees filed for unemployment in the last week of December, according to the Department of Labor. That number will likely rise through January, as long as the shutdown continues. Air traffic controllers, FDA employees, and other "essential" government workers who must continue working through the shutdown, however, cannot qualify for unemployment benefits.
Striffler tells CNN he's not looking to assign political blame to either the President or the Democrats (that's fine, many of us are very much willing to publicly lay blame at our pouting President's feet). "I don't want to blame anybody. I just want them to get together, find a [solution] and not use us as a pawn in either way," he says. "We just want to get back to work and get our paychecks."
This article was originally published on