Federal Government May Step In If States Don't Step Up Vaccine Laws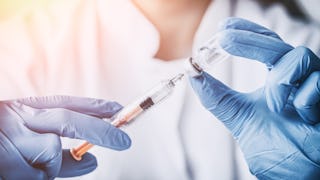 Image via Istock/Getty Images
The FDA commissioner said that federal health agencies might step in if states don't fix vaccine laws
FDA Commissioner Dr. Scott Gottlieb told CNN that the federal government might step in if states continue to allow children to attend school without their vaccine shots. This news – which comes amidst one of the largest measles outbreaks in decades – could not have been delivered any sooner.
Almost all states allow kids to go to school without their vaccine shots. This has lead to some truly damaging consequences, including New York City's largest measles outbreak in decades. As of January, at least 55 people have been diagnosed with the measles in New York City, along with 112 people in Rockland and Orange counties.
"Many of our cases were travel-associated," Dr. Jane Zucker explained to CNN. "So unvaccinated children had acquired their infection overseas. There are large outbreaks in many countries in Europe, as well as a very large outbreak in Israel, and so people need to be protected before they travel."
These outbreaks may have caused a tipping point.
"Some states are engaging in such wide exemptions that they're creating the opportunity for outbreaks on a scale that is going to have national implications," Gottlieb said. "[If] certain states continue down the path that they're on, I think they're going to force the hand of the federal health agencies."
So, how exactly would federal health agencies get involved? Gottlieb noted that they could "mandate certain rules" that determine which children are allowed exemptions from vaccinations. Currently, there are forty-seven states that allow parents not to vaccinate their children for religious reasons. Seventeen of those states allow parents not to vaccinate their children because of philosophical reasons, including "personal, moral or other beliefs."
That's a very, very wide net to cast. Gottlieb told CNN that he's "deeply skeptical" about any reasoning a parent gives for not vaccinating their child, other than a medical one.
Federal health agencies aren't the only ones trying to combat the anti-vaccination movement. This month, the social media platform Pinterest blocked all vaccine related searches on their site in an effort to prevent the spreading of false information.
"We want Pinterest to be an inspiring place for people, and there's nothing inspiring about misinformation," a Pinterest spokesperson said, per The Hill. "That's why we continue to work on new ways of keeping misleading content off our platform and out of our recommendations engine."
Now, eyes are on Facebook to take a similar stand. Last week, Rep. Adam Schiff sent a letter to Facebook CEOs Mark Zuckerberg and Sundar Pichai asking that they make an effort to squash the spreading of anti-vaccination information on their platform.
"As a Member of Congress who is deeply concerned about declining vaccination rates, I am requesting additional information on the steps that you currently take to provide medically accurate information on vaccinations to your users, and to encourage you to consider additional steps you can take to address this growing problem," he wrote.
It sounds like slowly but surely a shift in the right direction might be happening. All fingers crossed.