Federal Judge Temporarily Blocks Texas Abortion Law
by Valerie Williams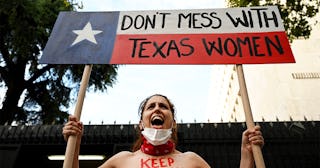 GABRIEL BOUYS/AFP/Getty
Thanks to a federal judge, Texas' strict abortion law is now temporarily blocked
Late yesterday, a federal judge granted the Justice Department a temporary injunction that blocks the enforcement of S.B. 8, a Texas law that blocked all abortions after six weeks.
The order was issued by U.S. District Judge Robert Pitman, and will block Texas from enforcing the incredibly strict law which was passed a month ago. The U.S. Supreme Court ruled last month that the law could be enforced as legal challenges to it are pending.
"From the moment S.B. 8 went into effect, women have been unlawfully prevented from exercising control over their lives in ways that are protected by the Constitution," says Pitman. "That other courts may find a way to avoid this conclusion is theirs to decide; this Court will not sanction one more day of this offensive deprivation of such an important right."
The law prevents pregnant people from getting an abortion if fetal heartbeat activity can be detected. For most pregnancies, that happens around six weeks, a time where many people don't even realize yet that they're pregnant. The law is uniquely terrible in that the Texas Legislature deputized private citizens to bring legal action against clinics that allow abortions to occur. People who assist someone seeking an abortion can also be subject to state court litigation with possible damages of $10,000.
"Fully aware that depriving its citizens of this right by direct state action would be flagrantly unconstitutional, the State contrived an unprecedented and transparent statutory scheme to do just that," Pitman wrote on Wednesday.
Pitman's order blocks all officers of the state from enforcing the ban. That includes court clerks and state judges. He prohibits them from "accepting or docketing, maintaining, hearing, resolving, awarding damages in, enforcing judgments in, enforcing any administrative penalties in, and administering any lawsuit" brought under S.B. 8.
Pitman said in his order that "despite the Texas Attorney General's lack of clarity about what the State would do in the face of a preliminary injunction, this Court trusts that the State will identify the correct state officers, officials, judges, clerks, and employees to comply with this Order."
Of course, the state has already appealed the order to the 5th Circuit Court of Appeals. That court could possibly issue a stay on Pitman's ruling which would allow S.B. 8 to remain while the courts continue litigation.
The Biden White House's response from Press Secretary Jen Psaki called Pitman's ruling "an important step forward toward restoring the constitutional rights of women across the state of Texas."
"The fight has only just begun, both in Texas and in many states across this country where women's rights are currently under attack," read the statement. "That's why the President supports codifying Roe v. Wade, why he has directed a whole-of-government response to S.B. 8, and why he will continue to stand side-by-side with women across the country to protect their constitutional rights."
"While this fight is far from over, we are hopeful that the court's order blocking S.B. 8 will allow Texas abortion providers to resume services as soon as possible," Alexis McGill Johnson, president and CEO of Planned Parenthood Federation of America, said in a statement after the hearing.