4 Ways To Help Feed Kids In Need During The Current COVID-19 Pandemic
by Wendy Wisner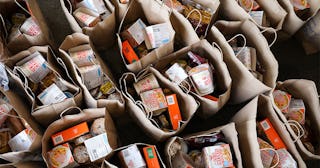 The Boston Globe/Getty
Information about COVID-19 is rapidly changing, and Scary Mommy is committed to providing the most recent data in our coverage. With news being updated so frequently, some of the information in this story may have changed after publication. For this reason, we are encouraging readers to use online resources from local public health departments, the Centers for Disease Control, and the World Health Organization to remain as informed as possible.
If you haven't gotten the call already that your school district is closing schools for a few days, a week, or more, you'll probably get it soon. Schools across America are closing to decrease the spread of coronavirus—so that we can protect each other, our most vulnerable citizens, and so we don't overwhelm hospitals with sick patients.
For many of us, hearing that our kids were going to be staying home with us for days on end was met with moans and groans. How are we going to keep these kids entertained? How are we going to follow the curriculum our schools expect us to implement? I don't know about you, but I can 't get my kids to clean their socks off the floor—the idea of essentially "homeschooling" them sounds bonkers.
But for many families across America, missing school is not just annoying, it's quite serious. Millions of low-income and food insecure children rely on daily meals from their schools to survive.
"One in seven kids in the US lives in a family that struggles to make sure there is enough to eat," Lisa Davis, Senior Vice President of the No Kid Hungry campaign, tells Scary Mommy. "Even before the coronavirus hit, millions of low-income families were barely keeping their heads above water, making tough tradeoffs between things like food, rent, transportation, child care and medical costs."
22 million children rely on free or reduced price school lunch, says Davis, and the school closings that are happening now will have significant impacts on these families. School meal availability isn't the only concern for low-income families.
"Community quarantine, income disruption and loss of wages and school closures are creating economic hardship for families struggling to get by, making it harder for them to feed their kids," Davis explains. "For families, this is a global pandemic that impacts local living rooms."
Thankfully, when it comes to school meals, school districts nationwide have risen to the occasion, with many already coming up with contingency plans to make sure kids who need meals will get them.
"Schools across the nation are working hard to implement innovative models to reach kids such as providing grab-and-go meals distributed at community sites, drive up meals, and having school bus drivers drop off meals on their usual routes," Davis says.
Still, with everything in a state of flux and every institution stretched to capacity, it's going to take all hands on deck to make sure our children stay safe and fed during this time of national crisis.
Here are some things we can all do to help, both on a local and national level.
Donate To A Local Food Bank
The fact that schools are coming up with creative solutions to get meals to their students in need is fantastic, but not every set-up will work for every family. And many families will be losing wages as a result of coronavirus business shutdowns. Food insecurity and economic. Hardship is likely to increase over the next few weeks and months.
"Some schools are arranging sack lunches, but to qualify you have to go with the child to the school at lunchtime, which is unrealistic in the current economic and health climate," Erik Talkin, Chief Executive Officer for the Foodbank of Santa Barbara County, tells Scary Mommy. "That means more families will rely on obtaining food from our food bank and the agencies we support."
Talkin recommends calling your local 211 number, which can provide you with information about food pantries near you and how to donate. You can also search the Feeding America page, which allows you to put in your zip code and find a local book bank.
Donate Funds To Organizations Fighting Childhood Hunger
If you aren't able to go to a food bank and donate food directly, you can donate money to an organization which supports families who experience food insecurity. Every little amount helps. Even a few spare dollars can provide a meal for a family in need.
Here are a few organizations to consider.
(Note: there are many local and state non-profits that do the important work of getting meals to hungry children—these are just a start. Consider reaching out to Feeding America—which maintains a network of over 200 food banks and 60,000 food pantries and meal programs—for more information or how to find local places to donate to.)
1. No Kid Hungry is a nonprofit working to end childhood poverty and hunger locally and worldwide. You can donate to them here. Every $50 can provide up to 500 meals for children who are experiencing hunger. You can learn specifically what No Kid Hungry is doing to help hungry children during coronavirus here.
2. Filling in the Blanks ("FITB") is a Connecticut-based non-profit started by two moms. As Tina Kramer, co-founder of Filling in the Blanks tells Scary Mommy, "Filling in the Blanks is collecting online donations and non-perishable food items. FITB will continue to deliver food to schools/after school programs that we currently work with."
To donate online, visit there website, here. You can also donate to their online food drive on Amazon.
3. Food Rescue is an organization that takes unused foods from businesses and donates them to communities in need.
Melissa Spiesman, Vice President and National Site Director for Food Rescue US, explained to Scary Mommy what Food Rescue's strategy is in light of recent school closures:
"Within 25 locations in 17 States and the District of Columbia, we are currently recovering food from various restaurants, grocery stores, and other establishments with excess food through the use of our proprietary app and dedicated volunteers," says Spiesman. "With the current uncertainty, this has included food from canceled events, restaurants with fewer patrons and schools and businesses facing closure due to Coronavirus."
You can visit Food Rescue's website for a list of locations that accept food donations, or donate funds directly to the organization here.
4. Food For Free is another organization that rescues food that would otherwise go to waste and gives it to people in need. They accept food donations from Massachusetts-based businesses (click here for more info), but you can also make a monetary donation.
Donate Directly To Your Local School District's Food Service Program
Schools may be closing for your children, but the folks who work for your school nutrition program will be working overtime to make sure local children get the meals that they rely on.
"Food service staff will be working within even more challenging logistics than usual to ensure that no child goes hungry," Alexa Arnold, Deputy Director of Strategy and Partnerships of FoodCorps, tells Scary Mommy. "These professionals need our support: they will be working long hours on short wages, creating new and unique serving solutions to ensure kids and families have access to food."
Arnold recommends directly donating funds to your local school district's food service program, if you are in a position to do so.
Urge Congress to Pass Bills That Protect Low-Income Families
There is a limit to what our state and local governments and school boards can do without proper funding. Lisa Davis, from No Kid Hungry, urges us all to call our members of congress and urge them to pass measures that will help low-income families survive this difficult economic time.
"We can urge Congress to pass emergency SNAP funding for low-income families. It just takes a quick call to our Members of Congress," says Davis.
"The Families First Coronavirus Response Act, H.R. 6201, which was passed by a strong bipartisan majority in the House does both of those things and includes increased funding for WIC and for foodbanks," Davis adds. "We urge the Senate to quickly pass this legislation, so kids who rely on school meals don't fall through the cracks."
OK, so donate food or funds, as you are able. Call your local school district and see what they need. And call your reps. Not too hard, right? And a little goes a long, long way.
We are all in this together. This is going to be a really hard time for all Americans, but the families who are already struggling are going to feel it hardest. So let's all do what we can do to help. Let's do this.
This article was originally published on