Article Suggests Female Vets Prefer Cuddling Puppies And Their Response Is Epic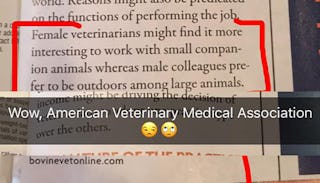 Image via Facebook/Sunrise Veterinary Service PLLC
These female vets had a few things to say about this sexist article
The Sunrise Veterinary Service, a dairy and beef veterinary service in Texas, had some choice words for the authors of an article in the most recent issue of Bovine Veterinarian. The article was apparently meant to discuss salary trends in the veterinary profession but readers got sidetracked after a particularly sexist paragraph caught their eye.
The article titled Drivers of Direction begins by talking about the salary of bovine vets as they compare to general vet practitioners and then a bunch of other stuff I didn't understand that makes me realize how smart veterinarians are. All is going well until they casually drop in that "Female veterinarians might find it more interesting to work with small companion animals whereas male colleagues prefer to be outdoors among larger animals."
Hold your horses — Did we fall asleep and wake up in the 1950's?
Sunrise posted the paragraph in question to their Facebook page, asking "where is the authors data to substantiate this opinion about old stereotypes? Dr. Barb has participated in these surveys, and has no recollection of finding small animal work more interesting. The AVMA continues to alienate bovine practitioners with these sexist, inflammatory assumptions."
It's truly astonishing anyone could make such sweeping statements implying "all" men or "all" women find something interesting or fulfilling. It's impossible to categorically assume all women prefer sprinkled donuts let alone base an entire career solely on the fact that they have a vagina.
But the best part of this post isn't the fact that Sunrise Veterinary called out a major industry publication or that they bring overt sexism to the public's attention – the best part of all of this comes via the comments section. These ladies were NOT having it and made sure to let the authors know not only are they capable of handling large animals, they (gasp) prefer it.
Because it's a good idea to piss off a woman who can castrate you:
If a picture were worth a thousand dollars instead of a thousand words there wouldn't have been a need for a salary study.
It's safe to say the women in the bovine veterinary field aren't interested in cuddling puppies and kittens and prefer using their brains AND their time getting their hands dirty and helping animals.
A bunch of kick-ass women defying all odds to get out of the kitchen into the great outdoors and have a career they love at the same time — who would have thought?