Female Cyclist Forced To Stop Race When She Caught Up To The Men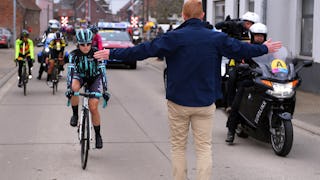 Image via Luc Claessen/Getty Images
She had a significant lead and ended up placing 74th after the stall
Well, here's an entirely unsurprising headscratcher — race officials in Belgium forced a breakaway female cyclist to stop during a road race over the weekend after she caught up with the men. There's no punchline, this actually happened.
Swiss cyclist Nicole Hanselmann described it as an "awkward moment" when she was told to stop racing during the Omloop Het Nieuwsblad race after she broke away from the women's pack and caught up to the men. It's worth pointing out the men had a ten-minute head start at the beginning of the race.
Hanselmann had developed a two-minute lead 18 miles into the race over the other women and quickly came upon the male support vehicles traveling at the back of the men's race. Instead of letting her catch up with (and likely beat) the men, the former Switzerland road champion was told to wait until a sufficient gap was again in place.
She and some of the other female cyclists who'd she'd had a significant lead over were "neutralized," in race terms so that the men could push on.
The racing event's official Twitter account reported the "neutralization of our women race at a railroad crossing in Sint-Denijs-Boekel… due to a very slow men's race." Some noted it wouldn't have been safe for her to get through the safety vehicles traveling behind the men. Or they could just get out of her way. Most others were disgusted by the outcome, though it rang a familiar tune for many:
When the 76-mile women's race restarted, Hanselmann was given a head start but soon lost her edge. Probably because, you know, she was sidelined at a critical time in the race and made to stand and wait in the freezing cold while the boys rode on. "It was a bit sad for me because I was in a good mood," she told Cycling News. "When the bunch sees you stopping, they just get a new motivation to catch you. We could just see the ambulances of the men's race. I think we stopped for five or seven minutes and then it just kills your chances."
She also said this:
https://www.instagram.com/p/BuhmXSzncxe/?utm_source=ig_embed
"May the other women and me were to fast or the men to slow," she said in part, hashtagging the photo #womenpower.
This certainly isn't the first time women and men have been treated differently in sports. Serena Williams was penalized with three code violations for losing her temper at the U.S. Open last year, something male players have been allowed to do for years without consequence. The gender pay gap is alive and well for women athletes who are often treated as an afterthought in sports. And who can forget the public outrage when Brandi Chastain ripped off her shirt after winning the World Cup, something her male counterparts often do. God forbid the world see a woman in a sports bra.
Unfortunately for Hanselmann, the momentum shift killed her chances of winning. She ended up placing 74th in the race. Perhaps next time they should let the women start first — or at least not stop them when they're out there kicking ass.