Natalie Portman And Janelle Monae Call Out Female Director Oscar Snubs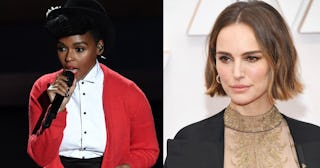 Kevin Winter/Kevin Mazur/Getty Images
Natalie Portman and Janelle Monae call out the lack of female director nominees at the 2020 Oscars
Ever since the Oscars released the nominees for the 2020 awards shows, almost all the discussion has to do with how very white and very male all the nominees were. Only one black actor was nominated at all and for the directing category, no women were nominated for an award — at all. You could boycott the Oscars or you could attend and take a stand, which is what Natalie Portman and Janelle Monae did.
To honor the many talented women who directed movies this year, Portman wore a cape inscribed with the names of the snubbed female directors and Monae opened the show with a song and dance routine and took a long pause to recognize the women missing from the directing category.
"I wanted to recognize the women who were not recognized for their incredible work this year in my subtle way," Portman told a reporter on the red carpet while showing off her black Dior cape that featured the first names of women directors along the hem.
The Oscars nominated Quentin Tarantino for Once Upon A Time In Hollywood, Bong Joon Ho for Parasite, Sam Mendes for 1917, Martin Scorsese for The Irishman, and Todd Phillips for Joker, so Portman highlighted some female directors: Greta Gerwig (Little Women), Lorene Scafaria (Hustlers), Lulu Wang (The Farewell), Melina Matsoukas (Queen & Slim), Mati Diop (Atlantics), Marielle Heller (A Beautiful Day In The Neighborhood), Alma Har'el (Honey Boy), and Céline Sciamma (Portrait of a Lady On Fire).
Then, Janelle Monae kicked off the show with a high energy song and dance routine that honored all the nominated films and took a break from singing to specifically celebrate the women directors who were **ahem** otherwise forgotten by the ceremony.
"Tonight we celebrate all the amazing talent in this room. We celebrate all the women who directed phenomenal films," Monae said, which was followed by rousing applause.
Of course, detractors will say that the Academy members just nominated "the best" films and women just didn't make the cut. Well, considering the fact that the Oscars voting body is 84 percent white and 68 percent male, those old white males cannot pretend that their ballot isn't colored with their very real biases.
Every year the Oscars ceremony seems to viral for what they lack, rather than what they inspire. From the #OscarsSoWhite to this year's #OscarsSoMale fiasco, we can only hope that messages like Portman's and Monae inspire the voting academy to look beyond their maleness and their whiteness and honor the work of women and people of color in years to come.