Female Firefighters Make Video To Show Little Girl She Can Become One Too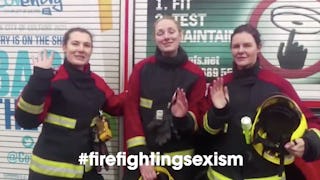 Image via West Midlands Fire Department/Twitter
Female firefighters sent a sweet, very important message to a 4-year-old girl
Four-year-old Esme didn't believe that girls could be firefighters. So a whole bunch of female firefighters posted messages on Twitter to let her know that she can grow up to be just like them. Prepare for your heart to explode from all of this sweetness.
It all started when Esme's mom Hannah Summers took to Twitter with a small call-to-action for her followers.
"My 4yr old came home yesterday saying she wished she was a boy so she could be a fireman," Summers wrote. "When I said girls can be firefighters too she said 'but I've seen in books they are all boys and I don't want to be the only girl.' Any good vids/books I can show her? #FirefightingSexism."
She got more than good book recommendations. The tweet pulled in nearly 3,500 likes and caught the attention of the West Midlands Fire Department. Some of the female firefighters in the department shot a special video for the 4-year-old and shared a very important message.
"Hi Esme!" three women said to the camera, in uniform. "We're firefighters and we're girls."
I told you that your heart would explode a little (okay, a lot).
The video had a big impact on Esme. Her mom later tweeted that her daughter was watching it on repeat. "She now firmly believes 100% that she can be a girl AND a firefighter so thanks again – job done!" Summers tweeted. "She's also very excited about the invite to visit and would like to try on the yellow helmet!"
To add amazingness on top of amazingness, even more female firefighters joined in to share pictures of themselves in uniform and remind Esme that girls can absolutely be firefighters.
https://twitter.com/jetpack/status/1086334644297945088
And that wasn't all. People chimed in to remind Esme that she can also grow up to work in any type of emergency services. She would be in very good company.
Summers thanked everybody for the pictures and kind, inspiring messages. "Incredibly touched by all the responses to my tweet re my daughter wanting to be a firefighter and the awesome vid by WestMidsFire," she wrote. "Thanks for all the fantastic photos of women firefighters – you all totally rock."
Also – to show her gratitude for all of her new heroic friends – Esme drew a picture of herself as a firefighter.
Sometimes the internet can be a very, very good place.
Three cheers to all the female firefighters who sent special messages. They just made a four-year-old girl (and the rest of the Twitterverse) very, very happy.