'Not Today, M**F**er!': Woman Stops Brutal Assault With Self-Defense Tactics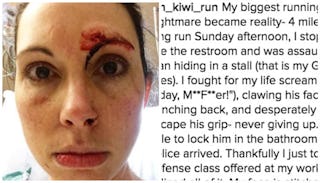 Image via Instagram
She used tactics learned in a recent self-defense class to ward off her attacker
A woman out for a run was attacked last week in a public restroom by a man hiding in one of the stalls. Luckily, she was able to draw on self-defense class skills and outsmart her attacker so she could escape. Her incredible story is making the rounds and includes a new mantra every woman needs to remember.
Kelly Herron was jogging in Seattle's Golden Gardens Park last Sunday when she stopped to use the bathroom. Her break came four miles into her planned 10-mile marathon training run and it was in that restroom where the 36-year-old sensed something was amiss. "As I was drying my hands I became aware that something was wrong," she tells ABC News.
That's when Herron turned around to see Gary Steiner, who according to police, is a 40-year-old level three sex offender registered in Arizona. "He immediately took me down to the ground, hit both my knees and legs, and then it was a fight on the bathroom floor and I just kept screaming, 'Not today, M**F**er!'"
Herron explains that at one point, she was able to free herself and tried getting inside one of the stalls. Unfortunately, it didn't work out as planned. "I got into that stall flipped on my back and I tried to kick the door lock shut with my foot," says Herron. Instead of locking the door, she jammed it. Steiner was able to work his way into the stall from the side. Herron says, "he started beating me in the face with his hand."
And that's when she made a choice that possibly saved her life.
She realized, "this doesn't have to be a fair fight," and started using techniques she learned from a self-defense course she'd taken at work just three weeks earlier. "All those little things that I learned in my life…how to punch and everything came back to me," she says. "I started to feel like I was going to lose consciousness…but I got another surge of adrenaline and I reached for the door and was able to get out."
At this point, someone walking by brought in a carabiner they had on hand to lock Steiner in the bathroom until police arrived.
In retelling her story, Herron says, "I was screaming at him, 'Not today, M**F**er!' Being loud and not afraid. I mean you are afraid, but letting him know you are not taking me down today. You are not going to win this fight," she tells KIRO 7. "That was the only thing that was motivating me … I cannot be raped by this guy in this place."
On Wednesday, Steiner was charged with second-degree attempted rape, as he allegedly told Seattle police he was in the bathroom for the purpose of raping a woman. He's being held on $750,000 bail.
As for Herron, she's already getting her bearings back, returning to Golden Gardens Park on the same day Steiner was charged.
"We don't have to go down. We don't have to be quiet about it," she says.
Not today, M**F**er, indeed.
This article was originally published on