72 Female Members Of Parliament Call Out Unfair Treatment Of Meghan Markle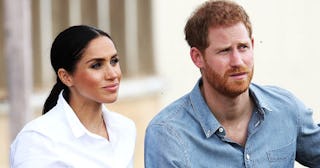 Chris Jackson/Getty
The female MPs have signed an open letter to the Duchess of Sussex to show their support
Seventy-two female members of have written an open letter to Megan Markle, the Duchess of Sussex, to express their solidarity with her in the face of the "outdated, colonial undertones" that British tabloids have used in writing about her and her family in the press.
The female politicians, who fall across the political spectrum, write that they support her in "taking a stand against the often distasteful and misleading nature of the stories printed in a number of our national newspapers concerning you, your character and your family." The letter is in direct response to the news that Prince Harry and Meghan are suing British tabloid The Mail on Sunday for "bullying" behavior.
"On occasion, stories and headlines have represented an invasion of your privacy and have sought to cast aspersions about your character, without any good reason as far as we can see," the letter states. "Even more concerning still, we are calling out what can only be described as outdated, colonial undertones to some of these stories. As women Members of Parliament from all backgrounds, we cannot allow this to go unchallenged."
Earlier this month, Prince Harry and Meghan Markle announced they are taking legal action against the Mail on Sunday over a claim that it unlawfully published one of her private letters written to her father. In a heart-wrenching but powerful statement, the Duke of Sussex says he and Meghan have been forced to take action: "I lost my mother and now I watch my wife falling victim to the same powerful forces."
Prince Harry says the paper published the letter in an "intentionally destructive manner" to "manipulate" and "further the divisive agenda" of the newspaper. Law firm Schillings, representing the duchess, said it has filed a High Court claim against the Mail On Sunday and its parent company, Associated Newspapers, over the alleged misuse of private information, infringement of copyright and breach of the Data Protection Act.
He says Meghan has been the "latest victim" of the British tabloid press, and that the negative stories that have been published about her have come at an extremely vulnerable time in their lives, calling it "a ruthless campaign that has escalated over the past year, throughout her pregnancy and while raising our newborn son."
In a recent interview for a documentary about their Africa visit, the duchess opened up about the stress of new motherhood compounded by the tabloid harassment she's received throughout her pregnancy and maternity leave.
"Look, any woman, especially when they're pregnant, you're really vulnerable, and so that was made really challenging. And then when you have a newborn, you know. And especially as a woman, it's a lot," she said candidly.
The most heartbreaking moment of the interview was when Meghan thanked the journalist interviewing her for asking about how she was handling it all. "I guess, also thank you for asking because not many people have asked if I'm okay, but it's a very real thing to be going through behind the scenes," she said.
The female MPs admitted that while they are also in the public eye but in a "very different way," they understand the "abuse and intimidation" the press can wreak on public figures.
They concluded their letter with a plea to the media to change the way they cover the duchess in the future. "With this in mind we expect the national media to have the integrity to know when a story is in the national interest, and when it is seeking to tear a woman down for no apparent reason."