Female High School QB Throws Touchdown Pass In Her First Game — On Her First Throw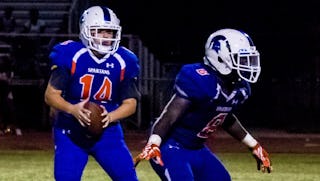 Image via Twitter
The first female QB at her school threw a touchdown pass in her first game
You'd think being the first female quarterback at her school would be milestone enough. How about throwing a touchdown pass in your first game. On your first throw?
16-year-old Holly Neher is the only female player on her high school's 50-person varsity football team, but she wasn't stopping there. She wasn't content to merely make the team, she wanted to play. And play she did, throwing a touchdown pass on her first attempt, in her first game, Friday night.
Holly's Hollywood Hills High School suffered a 21-7 loss to Hallandale High. That's right. The touchdown Holly threw was the only one her squad scored that night.
Did we mention it was a 45-yard pass?
After playing on her school's flag football team for two years, the 5'2″ Holly was confident she had the skills to compete in tackle football.
"I wanted to continue playing the sport so I tried out for the team," Holly told ABC. "I knew that I was capable."
She was right.
She's only the second girl in the 51-year history of her school to make the varsity team, and her teammates and the crowd all realized the significance of her accomplishment, cheering like crazy when she completed the pass.
Others recognized it too, like the local media:
Local politicians:
And even the not-so-local, like the Kentucky State Police, who were so impressed they just about offered Holly a job when she graduates.
If she doesn't want to continue her football career, of course.
A fellow female football pioneer is in her corner. Katie Hnida is the first woman to play Division One college football, and she was watching Holly throw a football right through her high school's glass ceiling.
To her credit, Holly is hoping her success story is a beacon to other young girls pursuing unconventional dreams.
"I hope that they all see how small how I am and no matter what mindset or color, race, size, gender, you can do anything you want," she said.
This article was originally published on