10 Gifts For Your Favorite Feminist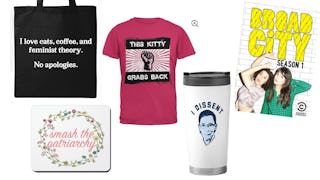 Images via Walmart
These are the perfect gifts for the biggest feminists in your life
This season should be filled with tons of sweets, lots of fun music, and celebrating all of the incredible feminists in your life. We pulled together the best gifts for all your strong, independent, kickass best friends and it's sure to bring a whole lot of holiday cheer. Don't worry, this list will include RBG's face.
I mean…has any sentence ever been more true? #SorryNotSorry.
We have a lot of really strong feelings about the patriarchy. This deeply graphic coffee mug description about wooden stakes speaks to our souls (and probably the souls of all other feminists right about now).
Or send the same message with this very pretty mouse pad covered in flowers.
Your favorite feminist definitely needs a travel mug featuring RBG's face. Because we could all use a dose of RBG power in our lives, literally at all times.
While we're on the subject, you'll also probably (definitely) need to get this shirt for your BFF so they can rep the Supreme Court Justice even harder while sipping from their dissent mug.
This is a VERY topical message right about now and is the perfect gift for every single woman in your life.
Buy these for your BFF so they can wear these feminist messages loudly, proudly, and on every single backpack they own.
No, seriously, I'm truly skeptical of any friend who doesn't want to get down and dirty with a long, feminist rant.
If your friend would like to record any of those above feminist rants, this journal would be a pretty handy outlet.
The holidays should definitely be spent snuggled up watching these feminist kweens. And, yes, it's appropriate for you to start saying "yahhhs kween" for the rest of November and December.
Here's to going full feminist this holiday season. Ilana and Abbi would be proud.
We are a participant in the Walmart.com Affiliate Program and may earn fees by linking to Walmart.com and affiliated sites.
This article was originally published on