There's Never Been A Better Time To Grab A Candy Bar — It's For A Good Cause
by Colleen Dilthey Thomas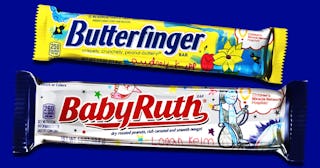 Ferrero And Children's Miracle Network
Every minute in the United States, 62 children enter a Children's Miracle Network hospital. Patients may suffer from common childhood ailments like asthma or a broken arm, to much more difficult diagnosis like cancer or birth defects. Today, a new partnership is helping to make a difference for millions of children each year. If that 3pm slump has you craving something sweet, now you can indulge that desire while supporting a good cause. Ferrero brands, CRUNCH, Butterfinger, and Baby Ruth are participating in a new campaign, "Raising the 'Bar' to Help Kids," to give kids' health a positive impact while partnering with CMN.
Mark Wakefield, senior vice president marketing of Ferrero Mainstream Chocolate & Nutella, said in a statement that Ferrero was thrilled to be partnering with a great non-profit organization and to have the chance to invite their customers along in their journey to support the futures of children who benefit from CMN hospitals. "Just like Children's Miracle Network Hospitals, CRUNCH, Butterfinger and Baby Ruth aim to create moments that bring people together every day," he said.
This partnership has allowed for CMN Hospital Champions, child ambassadors who help to raise awareness for the charitable needs of children's hospitals in the USA, to get involved by designing new limited-edition labels for the iconic brands. The champions were challenged to come up with imagery depicting a fond moment in their lives.
"This is the first time ever that we reimagined our packaging for CRUNCH, Butterfinger and Baby Ruth, part of our Raising the 'Bar' to Help Kids," Amber Hansinger, marketing director, Crunch told Scary Mommy.
This program is all about the kids. From beginning to end, they were able to help develop this delicious opportunity. The designers had the chance to use this platform as a way to bring awareness to children with special needs. According to the campaign website, Ciarlo, designer of the CRUNCH label said, "I don't really get to see that many characters like me so I just thought that it would be cool for me to be a T-Rex with crutches! I love everything about Children's Miracle Network Hospitals. It makes me feel really good to help other kids."
Logan, the Baby Ruth label artist, said that he loves that the CMN hospitals helped him to be the best version of himself that he can be. He loves to cook and is proud to see his artwork on a candy bar. Scoliosis patient and Butterfinger designer Audrey agrees: "I know how much Children's Hospital means to me and kids like me. Being able to help kids and their hospitals in such a fun way is really awesome."
CRUNCH, Baby Ruth, and Butterfinger are donating a percentage of the retail price of participating chocolate bars from now until August 12, 2021. Anticipating great success with the initiative, Ferrero plans to donate up to $350,000 to CMN hospitals across the country.
"We're excited to partner with Children's Miracle Network of Hospitals because like CRUNCH, Butterfinger and Baby Ruth, they aim to create moments that bring people together every day. We're committed to manifesting these moments and supporting a cause to improve children's futures and hope that our customers join us in our journey to support all the futures made possible by CMN," Hansinger told Scary Mommy.
An additionally sweet part of the partnership is Butterfinger's commitment to collaborate and raise funds with Extra Life. This program is affiliated with CMN hospitals and is deeply rooted in the gaming community, supporting more than 170 hospitals in North America. Butterfinger and Extra Life plan to host a Final Fantasy XIV fundraising stream for gamers.
Ferrero has been making products loved by generations for more than 70 years. With roots in Italy, Ferrero came to the United States in 1969. Through the years, it has continually updated its portfolio and among others, added CRUNCH, Baby Ruth and Butterfinger to their brand. Ferrero employs 3,000 across North America.
Funds raised by CMN support 10 millions kids each year throughout the U.S. and Canada. Through donations made to CMN, local hospitals are able to provide healthcare, research, medical equipment and assistance to families who may not have been able to afford these services. CMN is committed to helping children's healthcare needs and improving the communities that they serve.
Teri Nestel, CMN Hospitals president and CEO, told Scary Mommy, "There's nothing sweeter than helping a child or family in need, and right now, they need it more than ever. Our partnership with Ferrero USA Brands and Raising the Bar to Help Kids campaign is a testament that together, we not only advocate for future generations, but also manifest moments of happiness."
So grab yourself a delicious treat with all of the decadence and none of the guilt. It's for the kids!
This article was originally published on