Field Guide To The Suburban American Kitchen
by Nicole Leigh Shaw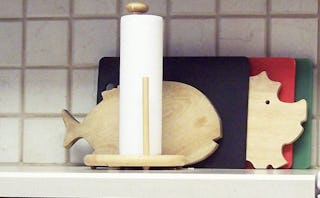 Not sure if your home is an animal sanctuary? Look around your kitchen. Is that a turkey-shaped gravy boat? Do you see a cheese knife with a mouse for a handle? Your butcher board, it's a pig, isn't it?
You didn't start out hoping to bring the great outdoors in, but nature and consumer marketing always find a way. In American suburban ecology, the mammal H. sapiens Pottery Barnis (human who overpays for white dinner plates) finds it nearly impossible to serve fish off an oval platter that does not also resemble a fish. Evolution at work!
To fill the natural demand for catalogs, the Crate & Barrels of the ecosystem deliver no fewer than five home goods catalogs per month, right to your mailbox or email inbox. These catalogs feature whimsical whale spoon rests.
But you didn't sign up for these catalogs? Of course you didn't, it's just part of the circle of life in a planned community with a pool and tennis courts.
Let's explore the creatures of this exciting habitat!
Williams-Sonoma Cast-Iron Bacon Press
Baconus brunchus
Fun fact! This porker is native to the up-and-coming subdivisions of Middle American states.
There is no greater irony than the suburban species of kitchenware that mocks the animals we feast upon. By accepting every brunch invitation that comes your way, you may stumble upon the king of ironic kitchen pigs: the hog-shaped bacon press from Williams-Sonoma. Bacon pressed with cast iron that is not pig-shaped is not good enough for your dining nook.
Find this winsome creature only in neighborhoods whose school districts are rated 8 or higher on GreatSchools.org.
Paula Deen's Signature Serverware Southern Rooster 10-Inch Stoneware Egg Tray
Rooster ridiculo
Fun fact! The modern egg tray has evolved so that it no longer fits in any cabinet.
©Paula Deen's General Store
Every person in suburban America knows that Paula Deen is synonymous with butter, racism and making dollar bills off of consumer products. But what to consume off of Paula's consumer goods? Only the most tedious finger food, of course! This deviled egg tray is a staple only those who are bored and possessed of disposable income would have. You know it's for the edible un-baby chickens because the father rooster looks on, happy to watch you devour the children his hen-pecking wife will never have. Is that paprika? Don't mind if I do, Rooster.
You simply won't find this species of cumbersome serveware in the 500-square foot home of a Manhattanite.
Crate & Barrel Cow Creamer
Bos taurus pointless
Fun fact! Milk already comes in easy-pour containers, making this species the most irrelevant of all suburban kitchen goods.
In nature, cow's milk comes out of a cow's teats. But teats are not acceptable table guests in suburbia. Enter the Crate & Barrel Cow Creamer. Bessie is happy to splash your coffee with cream regurgitated from her mouth and into your mug.
You can find larger variants of this animal in milk pitcher breeds.
Bad Bath & Beyond 2×3-Foot Cow BBQ Mat
Bos taurus outdoorus
Fun fact! Having an outdoor kitchen tells your neighbors, "I could set money on fire to grill my steaks with, but I hired someone to build this outdoor kitchen instead."
Only on .34 acres of planned housing can one bring the indoors out. Just like the roofed and centrally heated kitchens that are in suburban homes, the outdoor kitchen has its own array of wildlife.
This Cow BBQ Mat inhabits the outdoor kitchen, standing guard in front of the grill, humbly cushioning the feet of the "BBQ Boss" (as noted on the grill master's apron). This Bed Bath & Beyond species shows a fully intact steer sectioned into yummy portions, a visual that in no way resembles the meat-packing plant where an Angus is being hacked into bloody hunks of steak.
If you're not standing on this mat while you ruin $18/pound strip steaks, you're not living in a community with streets that end in "Trace" and "Crescent."
West Elm Fish Tail Metal Bell
Tuna tinkle
Fun fact! Even at half price, this is a ridiculous waste of money.
This aquatic life-form prefers to swim in eat-in-kitchens with granite countertops and apron sinks. Where the rest of the world sees the stubby fish tail as cheap bait, suburban animal evolution has given us a dinner bell. This fish tail bell lives in skinny cabinets next to the fridge where scented candles hibernate between seasons. Bring it out and tinkle away to tell your family that the salmon frittata is ready. They'll hate it, of course, but that's why you drank a bottle of pinot grigio during dinner, to drown your feelings of inadequacy.
Anthropologie Tiered Crane Sculpture
Supra expensica
Fun fact! $328!
Nothing says you've arrived in upper-crust suburbia like a Tiered Crane Sculpture that gives the illusion that this ceramic bird might poo on the French macarons. Not just any bird can find a foothold in the dining rooms of the subdivision jungle. It takes a majestic bird like the crane to make something that would otherwise look foolish, look foolish and expensive. If your host tries to serve you rustic tartlets or bespoke chocolates from anything but a crane, you'd be within your rights to kidney punch him.
Bonus points that this abomination is from Anthropologie, giving the homeowner an air of Brooklyn hipsterism while still maintaining a manicured lawn.
Target Threshold Cookie Jar Squirrel
Rodent chocolate chipus
Fun fact! Squirrels are the most likely animals to become roadkill in your subdivision.
Not every creature in the 'burbs spawns from catalogs. In fact, Target stores account for 90 percent of the critters living on kitchen counters. From fox salt and pepper shakers to this nutty cookie corral, Target is like the Amazon rainforest of urban sprawl. There are new species discovered in-store every day.
Just like your backyard needs its bunnies, chipmunks and moles for your designer Labradoodle to bark at, your kitchen needs inexpensive jars and bowls to make your designer Labradoodle Serving Platter look that much nicer.
Besides, you blew your budget on that fucking crane. You can't afford to stash your Oreos in a $79.99 cookie jar.
This article was originally published on