The Fiji Water Girl Photobombing Stars At The Golden Globes Is Your New Hero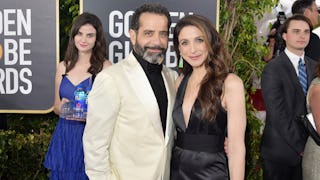 Image via Stefanie Keenan/Getty Images
The Fiji Water Girl was the breakout star of the Golden Globes red carpet
Are the post-award show "best dressed" lists not really your cup of tea? That's OK because what we have is so much better. During last night's Golden Globes red carpet, a woman stood apart from the rest — and it wasn't her designer duds that nabbed her all the attention. It was her extremely sly photobombing skills that resulted in her being included in countless snaps from the glitzy event.
Prepare to die laughing — and feel weirdly motivated? Because the Fiji Water Girl making bonus appearances in as many celeb pics as possible is your 2019 mood.
It seems this adorable model decided to shoot her shot and end up in as many red carpet pics as humanly possible — or it was all accidental. Either way, we're loving this so much.
Check. Her. Out.
No big deal. Just casually mugging while eventual Golden Globe winner Richard Madden poses for his red carpet moment. AHEM. Her red carpet moment. He just happened to be there.
Here she is in a photo with the literal Sexiest Man Alive. Just standing there. Casually slaying.
Here she is letting If Beale Street Could Talk's Kiki Layne have a slice of the spotlight.
Just mega chill. Putting out the vibe.
Camilla Belle thought she was posing for smoldering solo shots, but guess what? She's literally right behind you, girl.
Oh, icons Connie Britton and Judith Light? Sorry, we've only got eyes for Fiji Girl, even when she's not purposely staring directly at the camera.
Check out the stunning Amy Adams and her surprise co-star.
And Cody Fern posing with Richard Madden. And Fiji Water Girl. This will literally never get old.
Fiji Water was a sponsor for the Globes, so this event was obviously totally engineered to get their product into the limelight. HOWEVAH — please note that there were several Fiji Water models milling about the carpet last night. But only one managed to snag herself a spot in countless celeb photos.
FYI, her name is Kelleth Cuthbert, and we're pretty sure this is far from the last we'll see of her.
For their part, Fiji Water was only too happy to join in on the viral fun of Cuthbert's photobombing star turn.
Sometimes, red carpet photo ops can be stuffy and boring. Let's hope Fiji Water Girl has paved the way for more heroes to make things a lot more fun and interesting on awards show nights.
This article was originally published on