The 6th And Final (Sniff, Sniff) Season Of Schitt's Creek Is About To Drop -- And Twitter Has All The Feels
by Christine Organ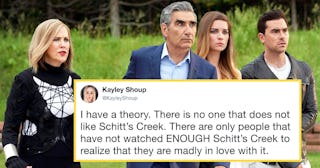 CBC and Kayley Shoup/Twitter ‏
There are two kinds of people in the world: people who are Schitt's Creek fans and people who are wrong. It's just that simple. And yes, the show is just that good.
In case you've been living under a rock and haven't yet jumped on the joy ride that is Schitt's Creek, here's the gist: The show centers on the Rose family, who were forced to leave their pampered lives of luxury after their video store chain goes bust. After nearly every worldly possession is seized, the family flees to a tiny town in the middle of nowhere called Schitt's Creek, which patriarch Johnny (played by Eugene Levy) purchased years ago as a joke.
The family is rounded out by Johnny's wife Moira (played by Catherine O'Hara), son David (played by Dan Levy, who's also the show's creator, and Alexis (played by Annie Murphy). Add in cringe-worthy Roland, snarky Stevie, and adorable Patrick and you've gotten TV heaven.
With the show entering its 6th and final (sniff, sniff) season, the quotes and gifs are limitless. And the show has only gotten better and better. I'm both counting down the days until the new season premieres on January 7th and simultaneously dreading it, because let's face it, there is nothing that will fill the Schitt's Creek-sized hole in our hearts that'll be left when the show ends.
At least we'll always have re-runs to binge, gifs to share, and Twitter friends to help us cope…
And of course, there's always the Google maps reviews of the motel.
Unless of course, you're dead inside…or Midwestern.
Then there are those strange folks out there who aren't watching. (Who are you?!).
Because Schitt's Creek is literally everywhere.
And it's taught us so much.
Or like Patrick loves David…
And even when it's over, it will never, ever stop making us feel all the damn feels.