Finally, An Honest And Hilarious Take On 'Second Puberty'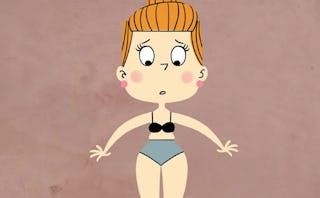 The inevitability of second puberty is often met with something resembling despair, but thanks to this genius video, we're finding reasons to laugh over boobs growing a size at age 37 and the creeping emergence of smile lines. Watch it all the way to the end for some welcome and cathartic comic relief.
So good, right? Let's recap our favorite lines.
"You'll see your body blossoming into womanhood. Womanhood being the doughier, wrinklier version of girlhood."
"Cellulite, stretch marks, smile lines. That's right! Smile lines! You're being punished for joy!"
"Unfortunately your new adult stomach can no longer handle delicious food. So you can either deal with the overwhelming cravings, or diarrhea! So much diarrhea!"
"Human sexuality is essentially one big missed high-five."
"Better you just drink to forget! But whoooooa, hangovers are way worse now. Sooo, did I mention you can rent a car?"
Get the free e-book! After 8 years, thousands of stories and 1 BILLION pageviews, SCARY MOMMY presents: "The Mom Club: 10 Stories to Make You Feel Like a Better Parent." Download it free—before this offer runs out!
This article was originally published on