We Don't Have The Money To Pay Our Daycare Bill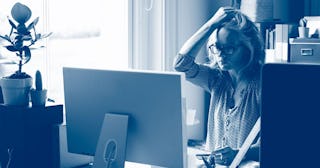 Caiaimage/Paul Viant
My cell phone "dinging" at 2:30 a.m. is never a good thing.
It's either an emergency affecting someone I love or, more likely, I've over-drafted our checking account again and my bank is kindly letting me know.
Thankfully (I suppose) it's usually the latter. Something that has sadly happened to us more than once and always gives me a sick, lumpy feeling in my stomach, then proceeds to keep me up for the rest of the night wondering what I could do differently to experience less stress over our family finances.
Our life is ordinary.
I went to college, met my future husband there, and went to work full-time where I completed my grad school internship. I've been employed there for the last 10 years, steadily climbing and receiving promotions periodically. My husband and I got engaged after dating for two years and were married for about a year when our son came along. When he was about one year old, we found out we were expecting our daughter. My husband is a restaurant manager and works for a national brand, he also has been with his current employer for several years and makes a slightly above average annual salary for his field.
I'm sharing these mundane details because I think it's important for you to see that we did everything the way we were "supposed to," and yet here I sit, 2:30 a.m. in a cold sweat because tomorrow is Monday, we have to pay our daycare bill, and we don't have the cash.
We haven't taken a vacation in over four years. We both work full-time and do all lawn and home maintenance/cleaning ourselves during nap time on weekends. We only shop at thrift stores and garage sales for clothing and toys. We grocery shop at Aldi and get most other essentials from the dollar store. We don't go out to eat at restaurants. I obsess over every dollar that we spend.
I re-gift, I coupon, I only fill up on Tuesdays, we share a Netflix account with my parents, my spouse and I don't exchange gifts and if we do we sent a $50 spending limit (sometimes lower). I re-sell all baby items on Facebook marketplace or in kid's consignment shops. I have made Cartwheel my b*tch.
But we are barely get by. It seems like all of our friends are doing well with money, and we are struggling. Perhaps I should lay off the Instagram and realize that just because it seems that everyone else is swimming in wealth—they have simply applied the fortune filter (no that is not an actual filter, but it's the technique of making yourself look like you have more than you actually do). We don't live large, and we both have decent-paying, full-time jobs with benefits, but living this family life is expensive.
To live in a home in a good, safe neighborhood, we have a mortgage payment. To have reliable cars that are in decent mechanical working condition, we both have a car payment. To go to college, I had to take out a student loan. So that my husband and I can both work full-time, both of our children are in day care — for the bargain price of $1,500 a month. We pay almost $1,000 a month in health insurance. We rack up an alarming $400 a month in diapers and formula.
We try, so hard, to build up a savings, and then something happens. A/C breaks in the middle of summer. Someone backs into my husband in the Publix parking lot and flees the scene. A pipe bursts and floods the front yard.
I know we could go without some of these things we view as necessities. The microwave stopped working last week—is that a necessity? Maybe not, but when I have worked seven days in a row and have to feed a hungry three-year-old in the 50 minutes that occur after I pick him up from daycare but before he goes to bed? You bet your ass it is.
My intent here is not to complain. I know how lucky we are. I am confused though, because I don't know what else I can cut to avoid feeling like a full financial failure.
So, if there is anyone out there like me, I want you all to know you're not alone. It is a truth more of us are living than most of us realize. I would go broke trying to keep up with our neighbors who look like they have everything—because I am basically broke just providing what we need to live a healthy and safe life. At least if we are going to be near penniless, we can do it together and with the knowledge that this is a tough season of life, and the next one will be here before you know it.
Though I hear the next one will be just as expensive. Yes, diapers and formula will turn in to braces and travel basketball which will turn into college tuition and a wedding fund.
And, at that point, when we look at our modest 401k balance and kitchen that desperately needs new counter tops, we will know that there was no better investment. Money may not buy happiness, but these dollars spent provide unending joy.
This article was originally published on