This 'Finding Nemo' Maternity Shoot Has A Very Special Meaning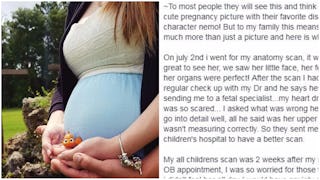 Images via Tayler Borre/Facebook
Just keep swimming
Picking a beloved Disney character as a maternity photo shoot theme is a cute idea. But for Tayler Borre and Ryan Shehan, the little Nemo fish in their maternity photos has an extra special meaning.
Borre is due with a little girl on New Year's Eve. They recently found out their little girl has Amniotic band syndrome (ABS), and will be born without a left hand. Their little girl will have a lucky fin, just like Nemo.
In a post that has now gone viral with over 62,000 shares, Borre writes, "To most people they will see this and think, 'Oh a cute pregnancy picture with their favorite Disney character Nemo! But to my family this means so much more than just a picture and here is why…" She explains how a growth problem was found during the anatomy scan. "I asked what was wrong he didn't go into detail well, all he said was her upper half wasn't measuring correctly. So they sent me to All Children's Hospital to have a better scan."
She spent the two weeks waiting for the appointment in a panic." I was so worried for those weeks," she writes. "If I didn't feel her all day I would have anxiety attacks, I had many breakdowns over not knowing what was wrong."
Finally the day of the second scan came. That was when Borre and Shehan learned their daughter had ABS and would be born with a limb difference.
ABS is a congenital condition that occurs during pregnancy. Strands of tissues from the amniotic sac wrap around the growing baby's body, creating pressure and potentially impacting the growth of the baby. For Borre's daughter, ABS has caused a lower limb difference of her left hand.
Borre admits in her post that being told her daughter would be born with one hand was hard to hear at first. She worried about her child and the difficulties she might face. "Ryan and I were shocked at first about her arm. We never heard of ABS until we had our scan," she tells Scary Mommy. "We were worried about how she will do certain things and how people will react to it."
But while the news was upsetting, Borre also saw the positive in the situation. He daughter was healthy. "I was also at peace with the news because everything else she measured perfect and she's nice and strong!" she writes. "She is our Nemo. She has a fin that's a little smaller than the other, but she will conquer anything her little heart desires to do!"
Borre's started a blog, ForEver a New Journey, to chronicle their experiences with ABS. Otherwise she's enjoying being over the first trimester nausea. "This whole pregnancy I have craved buffalo wings with lots of ranch and McDonalds mocha frappes," she explains. "I never liked buffalo wings before."
Borre says the response to her maternity photos have been overwhelming and unexpected. "When we posted the picture we were doing it to tell our family and friends. We hoped to get some shares to spread awareness,but we did not expect such a big outcome from it at all!" she says.
She and Shehan are prepared for their daughter's ABS and confident that she will be every bit the amazing baby girl they've been dreaming of. "This is not a disability or a bad thing," she writes. "She will be a little rockstar no matter what! She will do it all! We love you so baby girl!!!!" Still, she says the positive reactions have been very helpful. "Everyone has been so loving and supportive, even from complete strangers!"