'Finding Ohana' Is Out On Netflix––Here's Why My Family Loved It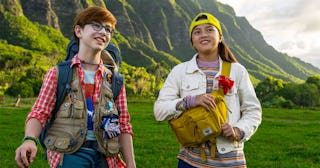 COLLEEN E. HAYES/NETFLIX
It has been a long, dark winter. And it's not even over yet. We could all use a little escape. Sure, "Bridgerton" is a great but sometimes we need a family-friendly escape.
Enter Netflix's latest – "Finding Ohana."
Directed by Jude Weng (who also directed "Young Sheldon"), "Finding Ohana" is like "Goonies" meets "Indiana Jones" meets "Lilo & Stitch."
It centers on siblings from Brooklyn, Ioane and Pili, who reluctantly travel to Oahu with their mom to look after their grandfather. While I find it hard to believe that anyone would be pissy about going to Hawaii, Ioane and Pili are definitely sulky about spending the summer on the island.
Within the first few days, their mom learns that her dad is in financial trouble and will lose the home and land that has been in the family for generations if she doesn't help him out. Pili finds a journal with what appear to be clues leading to a treasure. And Ioane makes a fool of himself falling all over a local teen.
First, let's get some of the critiques out of the way. There aren't a lot of surprises in "Finding Ohana." My son and I pretty much predicted exactly what would happen at each turn. Ioene can be pretty annoying and cringey. And there are some superfluous musical solos.
All that aside, this is a cute movie that is pretty fantastic to look at. I mean, it's set in freaking Hawaii. It was like a two-hour vacation, which is something I think we could all use, even if it's only in our mind.
It's a fun adventure that anyone in the family will enjoy. Even my 14-year-old, who wasn't sold on the movie because it wasn't all that edgy (read: there's no swearing) would ask "what did I miss" after he stepped out of the room for a few minutes. And we parents will love the nostalgic vibes that the movie gives off, reminiscent of those '80s adventures we all loved but this time with the representation we need.
There are over a dozen '80s movie Easter eggs throughout "Finding Ohana." The most obvious one is when Pili straps cans of SPAM to her feet to reach the pedals when she steals her grandpa's truck (a nod to "Indiana Jones: Temple of Doom").
Even more than the nostalgia, the adventure, and the pretty scenery, "Finding Ohana" shows that Hawaii is more than pretty beaches. Hawaii is a culture. A people. A way of life. And a rich and beautiful one at that. I loved the way the grandfather speaks in Hawaiian throughout the movie. In fact, more than 100+ Hawaiian words are spoken in the movie.
The production team was committed to authenticity too. They hired a Hawaiian consultant and had a traditional Hawaii priest bless their sets and crews requesting permission from the spirits to film on location.
"This is a movie that I want Hawaiians and Asian Pacific Islanders to look at and say, 'Wow. These people did their homework,'" said director Jude Weng.
Here's another fun fact: instead of giving cast and crew members usual swag like shirts and hats, native trees were planted for every one of them. How cool is that?!
It also has the requisite feel-good themes like friendship and family (ohana). And did I mention how beautiful it is? I literally took a break in the middle of the movie to check out real estate on Oahu. (Sad to report, it's not in the cards. Womp, womp.) I mean, can you even imagine living in paradise like this? Turns out Lindsay Watson, who plays Hana in the movie, was raised on Maui and her grandma actually lived just two minutes down the road from the movie set.
If you're looking for your next flick for Family Movie Night (especially if you've got younger kids in your family), check out "Finding Ohana." You can snuggle up with your favorite people, chill out for the night, and discover the real meaning of aloha. And of course, ohana.
This article was originally published on