Fiona The Hippo Adorably Photobombs Couple's Engagement Pictures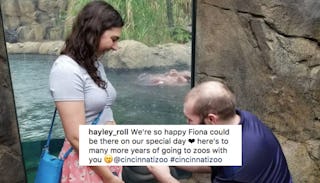 Image via Instagram/Hayley Roll
The internet-famous hippo wasn't going to be left out of their special moment
In the age of "pics or it didn't happen," just telling a story isn't good enough — we need proof, y'all. That's why it worked out well that when a certain viral baby hippo witnessed this couple's engagement, someone got it on film.
Oh, and she totally photobombed them.
Fiona the hippo achieved internet fame simply by being born earlier this year at the Cincinnati Zoo. Since then, she's captivated the masses and won hearts all over the world with her adorable baby hippo antics, which are documented by her keepers and shared on social media.
And now, she's grabbing headlines again with her surprise appearance in Hayley Roll and Nick Kelble's engagement photos. Kelble got down on one knee in front of Fiona's tank and, behold. Internet greatness unlocked.
https://www.instagram.com/p/BZ_usKJBZKY/
It was on their first anniversary, October 8th, that Kelble proposed to Roll at the zoo, right in front of a very nosy Fiona the hippo. Roll tells Scary Mommy, "I was so excited when I saw how cute the picture turned out. I don't think Nick could have done any better with his engagement!"
We fully agree, because Fiona did her part to make it magical too.
She was observing intently the entire time like a super invested old auntie who just wants to see her niece treated right. She needn't worry because according to Roll, her fiance did a great job. "I don't think Nick could have done any better with his engagement," she tells us.
Step aside, kids. Let Fiona in the picture too.
Roll tells us most are loving their baby hippo photobomb, but she's unfortunately experienced some negative comments about her body on one article about the pictures. Instead of getting upset, she wants to use her viral moment as a chance to combat internet bullying. "Half of the comments were about how I'm fat or look like a hippo. Which disappoints me because it should be happy and not negative. I'm very comfortable with my body and do bodybuilding in my free time, it was just bad posture and my shirt had drifted up. I just want to support body positivity to any people out there who get cyber bullied."
We asked Roll if she and her future husband have plans to say their vows in front of Fiona, since she clearly thinks she's part of their little family now. "Unfortunately, we can't do it in Cincinnati because all of our family is in Sandusky Ohio," says Roll of their planned July 2019 nuptials.
We get it, but maybe text Fiona some photos. It just seems like the right thing to do.
This article was originally published on