The Sutherland Baptist Church Has Been Turned Into A Memorial And The Images Are Haunting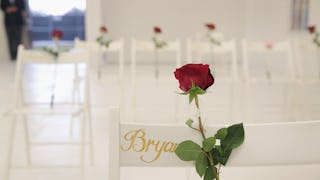 Image via Scott Olson/Getty Images
There are 26 seats to memorialize those who died
The First Baptist Church in Sutherland Springs, Texas was the site of the worst mass shooting inside a house of worship in our nation's history. Just one week after the massacre that took 26 lives, it's been turned into a memorial that can only be described as haunting.
Instead of tearing the damaged building down after Devin Kelley shot and killed 26 people during Sunday worship, the church was instead transformed into a bright white sanctuary where the family and friends of those slain could come to pray and pay their respects.
The repairs happened in a matter of days, and within hours of reopening the building, mourners were lined up around the block to step inside and take a moment to remember those lost.
In a statement to The Washington Post, the church's associate pastor Mark Collins said, "In most situations like this, the building would be closed off for months, but America was attacked, and we want America to grieve with us because they've expressed so much love for us."
"We don't want to appear defeated. We're back in business, and it's God's business," he said.
The church's website reads, "Since last week's assault on the small, humble Sutherland Springs community, FBCSS has undertaken several projects to help the healing process for the families and the community, including the reconstitution and restoration of the church sanctuary. Through generous volunteer efforts and offers from several individuals with varying fields of expertise, the scene of this unspeakable event has been transformed into a beautiful memorial that celebrates and pays tribute to the lives that were lost."
The volunteers included people to erase every sign of the bullets, blood, and building damage incurred during Kelley's rampage. In just 72 hours, a 30-person team removed all pews, chairs, and traces of the terrible event that happened only days earlier. "The walls were painted, windows and ceiling tiles were replaced, and carpet was removed and the floors painted," the church said in their statement.
The Washington Post reports that the building may still eventually be demolished and replaced with something more permanent, but that the decision will be made by pastor Frank Pomeroy, who lost his 14-year-old daughter in the massacre, and the rest of his small, tightly-knit congregation.
So small that the shooting meant they lost half their members.
The bullet-riddled pews that the cleaning crew removed were replaced with 26 white chairs, each with a red rose resting on its seat and a victim's name written in gold. The memorial includes a seat for pregnant Crystal Holcombe's unborn child, who died when she did along with three more of her children. Almost half the victims of the shooting were children.
Of the memorial's purpose, Collins says, "This is our church, but it is not just us that are suffering. This tragedy has rocked our nation, and has had an impact on all Americans and our country as a whole. It is our hope that this will be healing for everyone."