Sending Your Kid To High School Might Be Harder Than Their First Day Of Kindergarten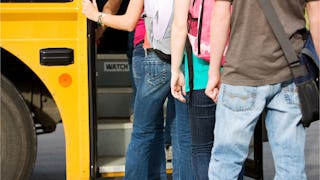 Sean Locke Photography / Shutterstock
His backpack stood ready by the backdoor. His lunch box was packed, and his school forms were tucked neatly in a brand-new folder, next to a pencil case with freshly sharpened pencils.
As I stood in our foyer, on the night before school, I sighed heavily.
A big day lay ahead.
I climbed up the stairs and opened his door quietly. He was already asleep, sprawled out on the bed in his characteristic fashion, arms up, cheeks slack from heavy sleep. I brushed his curly hair away from his face and kissed his forehead. My eyes filled with tears as I thought about his new adventure in the morning.
My baby, my firstborn, was off to high school.
And my heart ached.
I thought back to the night before his first day of kindergarten and half-smiled at how hard it was for me to put him on the bus. I thought of his 5-year-old face, his bus number on a cutout of a bus hanging from his neck with a piece of yarn. How he dashed to the bus as my heart broke, how his smiling face in the window caused the tears to flow before the bus even pulled away. I thought about how hard it was to let go of his hand and let him fly on his own for the first time.
What I didn't know then was that on his first day of kindergarten, I had the gift of time.
On the day I sent him to kindergarten, his school career was unfolding in front of us. I had 12 years from that day to get used to him heading to college. Year by year, grade by grade, he's been inching toward graduation, toward the time where he will live away from our home.
He just started his last school before college. I only have three more first days of school with him.
I'm not ready, you guys.
But I know he is, or he will be, because I've raised him to leave us. I've raised him to be independent and responsible, and I'm watching him pull away, one day at a time.
It's the order of things, yes.
But it doesn't make it easier to see that you've succeeded in helping your son, your firstborn, fly the coop.
Kindergarten is Lightning McQueen lunch boxes and sneakers that light up from Target.
High school is money on his lunch account and sneakers the size of boats because he's a man now.
Kindergarten is teacher conferences and emails to the teacher about his difficulty with math.
High school is never learning the names of his teachers and relying on him to ask for help in class.
Kindergarten is class parties, Halloween parades, and afternoons at the park.
High school is first dates, keys to the car, and midnight curfews.
Kindergarten is greeting the bus in the afternoon and excited chatter about his day.
High school is "I got this, Ma. I'll walk home" and "My day was fine."
Kindergarten is construction paper and glue sticks.
High school is computer projects and technology you don't understand (thank God he does, though).
Kindergarten is "I'm gonna marry you, Mommy!"
High school is "So, I met this girl, Ma…"
Kindergarten is bath time sillies and bedtime snuggles with wet hair, footie pajamas, and picture books.
High school is "When was the last time you showered, boy?"
Kindergarten is Mother's Day gifts made with handprints and his name signed in crayon.
High school is a funny card and a "Love you, Ma." You wonder when his hands got quite so big as he envelops you in a hug.
Kindergarten is the beginning.
High school is the beginning of the end.
Kindergarten is your little boy.
High school is the little boy you can still see when the light hits his face just right.
Only now, he's grown.
You know that your time with him at home is fading; the moments where your family will always feel complete at the end of the day are coming to an end.
You tell yourself that it'll be okay, that he'll always want to come home.
You think about your own college days and know that isn't the case.
And you are happy for him, as he greets this last phase of his childhood with excitement and optimism.
But as you see the end of the race, the light at the end of the tunnel, you realize that when you get to the finish line, he'll be starting a whole new race, one that you won't be running alongside him.
You wish with all your heart you could be at the starting line again.
As I watched him board the bus to high school, my eyes filled with tears and my heart ached more deeply than it did on his first day of kindergarten.
The bus pulled away, and my eyes met his. He raised his hand, gave a quick wave, and mouthed, "Love you" because he knew I needed it.
And then he stuck out his tongue and made a silly face because he's a teenager, and he wants his mom to go back into the house now and stop worrying about him.
I waved back and laughed.
High school, here we come.
This article was originally published on