The First All-Female Spacewalk Is Finally Happening This Month
by Julie Scagell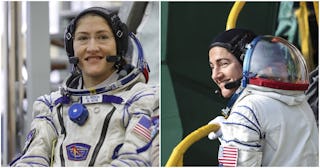 Mikhail Japaridze / Getty
The first all-female crew astronaut crew includes Christina Koch and Jessica Meir
The first all-female spacewalk has officially been scheduled for October 21, 2019, for astronauts Christina Koch and Jessica Meir after a previous attempt was postponed because of "spacesuit availability."
NASA announced the news Friday (via NBC News) and confirmed that there will be a series of 10 planned spacewalks, calling it a "spacewalk bonanza." The series will begin next week and will continue over the next three months, "a cadence that has not been experienced since the assembly of the space station was completed in 2011," NASA said in a tweet.
"It's a really busy time," Kirk Shireman, NASA's program manager for the space station, said in a news briefing. "It'll be exciting and fun. We're looking forward to it."
For October, Koch and Meir have both trained in medium-sized suits for the last six years and it's been confirmed that there are two available medium-sized suits for their spacewalk. "We do our best to anticipate the spacesuit sizes that each astronaut will need, based on the spacesuit size they wore in training on the ground, and in some cases (including Anne McClain's) astronauts train in multiple sizes," Brandi Dean with NASA's public affairs office told CNN after the last all-female spacewalk was scraped. "However, individuals' sizing needs may change when they are on orbit, in response to the changes living in microgravity can bring about in a body. In addition, no one training environment can fully simulate performing a spacewalk in microgravity, and an individual may find that their sizing preferences change in space."
Koch will conduct three spacewalks in October, on the 6th and 11th, and then with Meir on the 21st. She will remain on the International Space Station until February 2020, making her time on the station the longest single spaceflight by a woman. Meir will spend more than six months onboard the station. Meir and Koch have been training together for the last six years and are members of the same astronaut class.
The upcoming spacewalks are set to replace batteries on the space station's 360-foot-long backbone, swapping out nickel-hydrogen batteries with new lithium-ion batteries that are more powerful, last longer, and are used to store power from the space station's solar arrays. They will also be upgrading the orbiting lab's power system.
The newly scheduled spacewalk is possible because NASA sent up a new spacesuit that was "configured with a medium-size hard upper torso in order to meet future staffing requirements," Space reported.
"It turns out that over the next couple of years we're having a lot of medium-suit people fly, and so that's the sweet spot," Shireman added, in what is a reference to the increasing number of women at NASA.
Safe travels to these badass women set to embark on this stellar trip.