2018 Gerber Baby Is The First Gerber Baby With Down Syndrome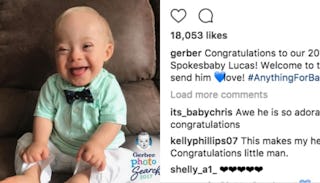 Image via Instagram/Gerber
People are overjoyed that Gerber chose a spokesbaby with Down syndrome
The 2018 Gerber baby is here, and you're going to die of cuteness when you see him.
This is one-year-old Lucas Warren, and he's the first ever Gerber baby with Down syndrome.
https://www.instagram.com/p/Be5djURhrDV/?taken-by=gerber
Lucas, who's from Dalton, Georgia, will now represent Gerber in ad campaigns and on social media throughout 2018. He also won $50,000, which his parents, Cortney and Jason Warren, say will be put toward his education. They said they were shocked when they found out Lucas was the winner of the yearly photo contest, chosen out of 140,000 entries, but after the initial surprise wore off, they were just excited about what this win means for kids with special needs.
"My biggest concern always, with Lucas, was how people were going to treat him," Cortney told Today. "I was always afraid he'd be bullied, or people would be scared of him. It's never once changed how we felt about him. He's always been our son."
Jason added, "I just want him to look back and say, 'I was the Gerber baby. Look what I did.'"
The Gerber baby has existed for 90 years, since Ann Turner Cook became the original face of the company. For the last eight years, Gerber has run a yearly photo contest to choose a new spokesbaby.
"I know you will take great pride in representing Gerber this year, as I have for the past 90 years," Cook said in a statement. "There is no greater privilege than to be a universal symbol for babies all over the world. I am delighted to take part in this celebration. Lucas is precious, and I look forward to watching him grow this year!"
And on social media, people are delighted to see a baby with special needs chosen to be the face of such a huge, well-known brand.
The people of Twitter aren't the only ones obsessed with this kid. Not only does he seem like he'll be an amazing ambassador, but he's really freaking cute.
"I hope it shines light to the special needs community, showing that they are just like you and me. They should be accepted, not based on their looks, but based on who they are," Cortney said.
Added dad Jason, "He gets to spread so much joy and love to everybody, and that's what we're mostly looking forward to."