First Grader Chokes In Cafeteria, No One At School Administers CPR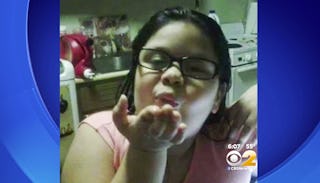 A Brooklyn, New York first grader is on life support after choking in her elementary school's cafeteria. An EMT who happened to be outside the school responded to a knock on his passenger side door and jumped out to help. He's now been suspended without pay. This story is a tragic mess.
Noelia Echaverria, a first grader at P.S. 250 in Williamsburg remains on life support at NYU. The EMT who left a non-emergency patient in his ambulance with a driver to rush to assist the child claims that when he arrived on the scene, "there was no one doing anything to help her. They told me she was eating a sandwich and started choking." Why? Why wasn't anyone administering CPR? Why didn't anyone attempt the Heimlich?
Only two states in the country mandate CPR certification for all teachers: Indiana and Virginia. The Ohio Department of Education also mandates an adult trained in CPR be present in the cafeteria while children are eating. There are many states that require Physical Education teachers to be certified, but it is not a requirement across the board with teachers and cafeteria staff. Some individual school districts across the country have mandates in place that require a certain amount of CPR trained staff for every X amount of students. But in a country where 27 states require high school seniors to take a CPR class before they graduate, doesn't it seem ridiculous that we don't expect it of teachers and administrators across the board? I never even thought to ask if my son's kindergarten teacher knew CPR — I just assumed she did.
No official details have been released about the case. What's been pieced together is that Echaverria was eating a sandwich, began to choke, and had allegedly not been helped at all until Qwaise Reid, a paramedic for Assist Ambulance, tried to help. She was not breathing at that point. CBS reports, "Based on her condition, Reid believes at least five minutes had passed by the time he arrived, and he thinks he was the first person to call 911. The FDNY's EMS and the family both arrived less than five minutes after that." The school claims they contacted 911 and the family immediately.
At least one child dies from choking on food every five days in the U.S., and more than 10,000 children are taken to a hospital emergency room each year for food-choking injuries. How is it possible that it's not a law in every state for a staff of people who are paid to teach and work around students all day to know CPR? The school hasn't claimed that it did anything to help her, apart from "following protocol" and contacting 911 and family. How is performing the Heimlich or attempting life-saving CPR if she wasn't responsive not a part of that protocol?
The family wants answers, and who can blame them? Imagine how devastating it would be to know that your child choked essentially to death because no one at school was in a position to respond to an emergency situation? And the only person who did respond is being suspended without pay for breaking protocol. At what point does a life matter more than protocol?
It's not just teachers who should know CPR, we all should. It's a relatively short class, and it equips you to help someone in a moment where minutes can make a life or death difference. Choking, especially among children, is such a common problem — we should all be trained to help.
The Red Cross provides a free e-book and online refreshers, it also provides a class finder so you can locate a CPR class near you.
This article was originally published on