Simmer Down, Sanctimommies -- This Playset Isn't Real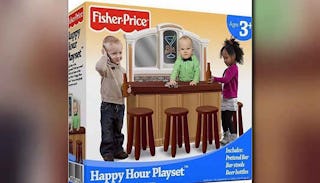 Image of fake Fisher Price "Happy Hour Playset" sends sanctimommies into a frenzy
There's an image of a Fisher Price playset circulating wildly around Facebook right now. In fact, roughly a half dozen friends and family have sent it my way as a joke. I was a career bartender before I became a writer, so the hilarity of the set isn't lost on me.
On the cover of the box, two toddlers cozy up to a fake plastic bar to presumably be served some delicious beer from their burly-faced bartender.
I chuckled and went on with my day, as one does when they see a cute little internet joke — but apparently not everyone. Amiri King, the comedian responsible for making the "playset" go viral, has over two million Facebook followers. The reaction to his post proves a) not everyone has a sense of humor and b) people are really freaking gullible.
"So now your toy company (widely trusted among parents for many decades) is promoting drinking with this 'CHILDRENS' toy of a bar, complete with beer bottles?" one user asked Fisher-Price on Facebook.
"You should stop selling this toy," declared another.
"NO!!! Not cute!! It's exploitation of the young mind!" Relax with the exclamation points. We get it. You're pissed.
"Stupid toys. This is what happens when morals are gone and proper common sense is missing. Political Correctness created this. My children would never have shield this." Political correctness created this?
"This is stupid and ridiculous as shit, why they tryna even put lil baby's [sic] as an image on here, you know these kids are going to grow up to be drunks, gets dui's and likely die of liver failure by age 50 or so." Yes, this is definitely a gateway playset. These toddlers are doomed.
"Personally, I think this is a terrible gift. Hard to comprehend a company making such a thing. You may not think this so funny in a few years! Why would you trivialize drinking with small children! They will be impressed with the 'coolness' of it. You may not think it so great when they have a problem or kill or kill someone else drinking and driving! Just sayin'…………………YOU grow up!" Stop YELLING at us. Sheesh.
First of all, if this toy actually existed, it would be sold out. Full stop. Second, screw everyone who thinks bartending isn't a legitimate role-play "job." Kids pretend to be everything from mutant turtles, to evil overlords, to bank robbers. At least bartenders aren't armed — and what is the big deal?
"In the last few weeks some comical, yet fictional, Fisher-Price products have been introduced – perhaps the result of adult writers, designers and comedians that were Fisher-Price kids themselves," Amber Pietrobono, public relations manager for Fisher-Price, told CBS News. "As a premiere childhood development company focused on helping families get the best possible start in life, we take our role in developing toys and products very seriously, but can appreciate the recent product development suggestions as obvious love of the brand."
Translation: we have a sense of humor, so should you.
This article was originally published on