Fisher-Price Recalls 34,000 Infant Cradle Swings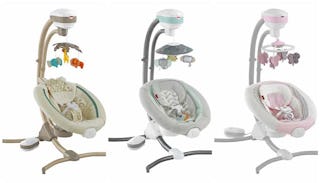 Fisher-Price recalls infant cradle swings
Three models of Fisher-Price infant cradle swings have been recalled due to safety concerns. The Consumer Product Safety Commission notes that if the seat pegs are not fully engaged, the seat can fall unexpectedly, posing a risk of injury to the child.
The models are Fisher-Price Soothing Savanna, Sweet Surroundings and Sweet Surroundings Butterfly Friends Cradle 'n Swings. The recall instructions are very simple: "Consumers should immediately stop using the recalled cradle swing and contact Fisher-Price for revised assembly instructions." Apparently there are no faulty parts, just unclear instructions.
Here's the problem — this is what it looks like when the seat peg isn't fully engaged:
This is what it looks like if it is:
No infants have been harmed but according to the CPSC Fisher-Price has received two reports of a seat peg coming out from the seat, causing the seat to fall.
The company clearly determined that this issue was enough of a hazard to update the instructions. This is a great reminder of how important it is to report problems you have with products, even if there were no injuries. In this case, reports were made swiftly and no children were injured. It's also very reassuring when a company responds quickly to complaints and rectifies any problems immediately.
If you own one of these models, contact Fisher-Price at 800-432-5437 from 9 a.m. to 6 p.m. ET Monday through Friday, or online at www.service.mattel.com and click on Recalls & Safety Alerts for more information.
This article was originally published on