There's Now A High-Tech Exercise Bike For Toddlers
by Maria Guido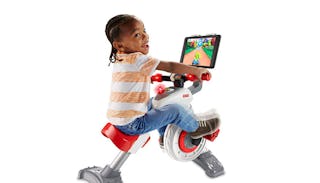 Image via Fisher Price
Fisher Price wants parents to be able to give their kids guilt-free tablet time
Feeling bad about all the time your kid spends on a screen? Worried about childhood obesity? Fisher Price has a fix for you — their newest exercise bike has a tablet holder so your little one can get some exercise during his tablet time.
Fisher-Price introduced the Think and Learn Smart Cycle this week at the Consumer Electric Show in Las Vegas.
"Used on its own, the Think & Learn Smart Cycle wirelessly connects to a tablet mounted on its handlebars via Bluetooth, letting kids control one of four downloadable iOS or Android games through the speed of their pedaling," reports Gizmodo.
This is great for kids who don't have access to a backyard, or when the weather is bad, or when parents want to wear them out before bed maybe? Just trying to remain positive about this toy that's slightly freaking me out.
Special apps that go with the bike encourage children to use the cycle as a remote of sorts. They can play a variety of games, and those games are aimed at helping kids learn skills in literacy, math, and science.
The target age range for the product is three to six years old.
"For a more immersive experience, the $150 Think & Learn Smart Cycle can also be connected to a larger screen using apps running on hardware like an Apple TV or smart televisions that support Android TV," reports Gizmodo.
Why stop at having kids operate their games with this thing? Make 'em peddle faster and generate power for the house. It's about time toddlers started earning their keep.
This article was originally published on