Fit Mom Posts Video Of Her Target Aisle Workout And Gets Shamed For It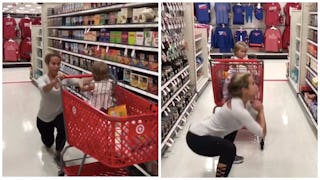 Image via Instagram/Sia Cooper
Not everyone was loving her snack aisle squat routine
A ridiculously fit mom is catching a ton of flak for posting a video of herself getting in a quick workout at an unlikely place — her local Target. That's right, while the rest of us are filling our carts with snacks and throw pillows, there's a woman doing squats with a toddler in tow.
Sia Cooper, she of the insane pregnancy abs and voice behind the popular fitness blog Diary of a Fit Mom, took to Instagram recently to demonstrate just how easily she was able to work in a few minutes of fitness while strolling the aisles of Target.
https://www.instagram.com/p/BZwej1ogCXe/?taken-by=diaryofafitmommyofficial
She writes, "getting it done in @Target because it's only the most magic place in the entire world (besides Disney world). So if you saw a weirdo working out in Target today – yup that was me! Who needs a friggin' gym."
Excuse me while I drool and stare at the plethora of snack foods surrounding Cooper while she squats, lunges, toe taps, hip rolls and leg extends her way through the aisles while pushing her little girl. It might not be my cup of Starbucks to work my booty while shopping, but hey, good for her.
Or not. Because of course, since Cooper shared the video to her Instagram page (SELF Magazine also shared it on their account) she's been met with plenty of criticism about the sly workout she fit in while getting her retail therapy on.
Who has time to workout in Target.
Give that women a Xanax. So dumb.
Just shop and spend time with your kid!
If I saw that lady at Target I would run away from Target. She looks like a lunatic.
This is totally ridiculous! Not a place to do exercises.
Go to your house to work out. You are obstructing the aisle.
Actually, the only aisle obstructions that make me rage at the Big Red Bullseye are the unnecessary husbands refusing to budge while their wives look at curtains and I'm on a freaking mission. Also, there's not a single other customer or employee in any of the shots, so clearly, she wasn't bothering anyone.
https://www.instagram.com/p/BaFAox7gO1e/?taken-by=diaryofafitmommyofficial
Cooper tells Scary Mommy that the reaction to her video is going beyond simply disagreeing with what she did. "People are going out of their way to be mean, it seems. I'm simply showing a fun, creative way to kill two birds with one stone and they rip it to pieces."
Welcome to the internet, sadly.
She tells us her Target tone-up wasn't something she set out to do initially, but the idea popped in her head while strolling around. "My husband and I were just shopping one morning and the store was literally dead and I thought, what if a busy mom could get a good workout in while shopping with her little ones? And the video was thus created."
https://www.instagram.com/p/BZ89vqEg8fk/?taken-by=diaryofafitmommyofficial
While I enjoy my Target runs solely as an excuse to buy chili lime-flavored beef jerky I plan to tear open the moment I get to my car (don't judge me), I also appreciate Cooper's dedication and the way she's proving to her followers that fitness doesn't have to mean a grueling 2-hour gym trip. I'm a fitness fan now, but when my kids were tiny enough to ride in a Target cart, I was too exhausted for much of anything. All or nothing girl that I am, I figured if I couldn't find time to make a formal trip to the gym, I might as well skip exercise altogether. And I did.
While most moms might not run to their nearest Target and try out Cooper's snack aisle routine, seeing her video might be a reminder that taking a few 5-minute blocks each day to work in a couple of moves is better than nothing. Fitness is not just about being a tiny size or having visible abs, it's about health. There's no reason to shame any woman trying to get the message out that exercising doesn't have to be a half-day event if the only time you have is a few minutes.
Bottom line, one mom's choice to work out while shopping is not a dig at anyone else — it's just what she feels like doing. And there's absolutely nothing wrong with that.
But if you ever see me at Target doing lunges, know that I've lost the plot — because it's my beef jerky joint, not my gym.