Fitness Blogger Challenges Her Husband To Pregnancy Workout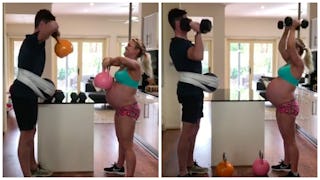 Fitness blogger Anna Strode challenges her husband to a baby bump fitness contest
When you're in the third trimester of pregnancy, just walking to the fridge can feel like a workout. Figuring out a way to tie your shoes when you literally can't see your feet is like the new yoga. Walking down the hall to go to the bathroom fifteen times a night is cardio. And don't even get me started on the calories burned trying to put on a pair of maternity jeans. The struggle is real, y'all. Which is why we're so dang impressed that fitness blogger Anna Strode challenged her husband to a pregnancy workout — with a "bump" and everything.
As if we weren't already in awe of this fierce AF mama after she clapped back at a nasty internet commenter who suggested that being a stay-at-home mom isn't actually "work," her latest fitness video has us standing up and cheering. Or maybe just shouting in envy from our well-worn spot on the couch, Damn, girl, you are badass.
At 37 weeks pregnant with her third child, Strode challenged her husband to a "pregnancy workout" – strapping a weighted ball to him before the two went head-to-head in a fitness competition. She posted the contest on Instagram and in just a few days, the video has already been viewed more than 39,000 times.
"Let's just say it didn't go so well," Strode wrote. "His response as soon as we taped the weighted ball to him was 'OH OUCH, this really hurts your back hey."
Strode's response? "Yep, that's the reason women have babies and not men." Touché.
The two then go toe-to-toe in deadlifts with kettle balls. They do squats and curls with weights. They do freaking jump squats! How she didn't pee her pants doing those we will never understand. All hell breaks loose when the tape holding hubby's medicine ball "baby" to his belly breaks and the "bump" comes crashing to the floor.
Strode told Scary Mommy that her husband often says things like "I don't know how you do that" so one day, she responded by saying, "Why don't you give it a try!" He laughed it off at first, and it took a fair amount of convincing to get her camera-shy husband to agree to it, but she said the challenge ended up being a lot of fun for both of them.
"I think he actually ended up enjoying it and it gave him a TINY taste of what us women go through," she said. "I don't think men will ever understand but I appreciate him at least giving it a go."
The fitness blogger told Scary Mommy she is a big proponent of the "exercise promotes energy" mentality. She said her workouts actually give her more energy to face the day with strength, patience, and positivity — something she needs this late in pregnancy when she's dealing with twin toddlers as well.
Strode is also no stranger to exercising with her family. In fact, with two toddlers at home, she admits to getting a little creative with her workouts sometimes.
"As you can see, I often spend quite a bit of time being the 'referee' between these two when I work out," she wrote in a Facebook post last month. "Where I can, I try to continue my workout and just get a little creative ~ talking them through the sharing process and encouraging fun play rather than snatching. It's tough and often means my workouts are cut short but I just try and take advantage of the days they play nicely to get a better workout in."
Another favorite way to sneak in a little exercise with the little ones? Dancing! Seriously, who doesn't love a good dance party?
Her advice for anyone wanting to start or continue exercising while pregnant or postpartum is to start small and build your way up. "You don't need to overcomplicate it," she told us. "I think a lot of mums think they need lots of equipment or expensive gym memberships, but you can do everything in your own kitchen or lounge room."
This article was originally published on