A 5-Year-Old Was Detained At The Border And Forced To Sign Her Rights Away
by Thea Glassman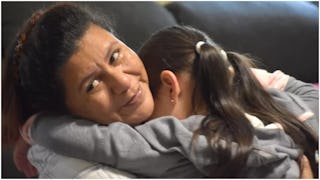 Image via LUPEnet.org
A 5-year-old was pressured into signing away her rights to be reunited with her family
The Tump administration might have revoked their policy that ripped immigrant children away from their families but the heartbreaking consequences are ongoing. A 5-year-old named Helen from Honduras was separated from her relatives, detained, and then convinced to sign her rights away.
According to a report from The New Yorker, Helen, her grandmother Noehmi, and other family members fled from Honduras because of gang violence. When they arrived in America, they were placed in a Texas DHS processing facility and Helen was separated from the rest of the group. Her relatives were later released and went to stay with Helen's mother, who is already living in the states. Meanwhile, Helen was transported to different shelters and her family was left in the dark about her exact whereabouts.
At one of those shelters, the 5-year-old was given a contract to sign, which waived her rights to a Flores bond hearing – a procedure that would have sped up the process of reunification. On the signature line, The New Yorker reported, Helen penned her first name "in wobbly letters."
Helen was sent to a foster home and her family still had no means of getting in contact with her. When her relatives went before a judge to petition for asylum, their attorney, Eugene Delgado, asked where the child was. The judge had no idea what they were talking about. Helen had been completely lost in the system. "I could give you a couple of phone numbers to call?" the prosecutor said.
Delgado told The New Yorker that it was a "complete maze" trying to track Helen down. "I talked to at least ten people—case workers, social workers," he recalled. Finally, the family was granted two ten-minute calls with Helen per week. The little girl would often beg, "Come get me, Grandma!"
LUPE, a nonprofit for low-income Texans, collected 10,000 signatures in an attempt to get Helen released. They sent the petition to the Office of Refugee Resettlement, hoping that it would put added pressure. The campaigning and public outcry worked. Helen was finally released to her family after a months-long separation. Noehmi recalled that her granddaughter ran into her arms, yelling: "That's my grandma! That's my grandma!"
Despite the complete joy and relief the family has experienced being reunited, Noehmi noted that Helen is dealing with significant trauma from the separation. She hides in the closet at bedtime, refusing to go to sleep because she's worried that her family will leave her. "Helen was always a very calm girl," she said. "Now I have to be very patient with her—she's very attention-seeking."
This completely heart-shattering story isn't a unique one. Jess Morales Rocketto, co-founder of Families Belong Together, told The New Yorker that it shines a light on the ongoing awful situation that many immigrant families are dealing with right now.
"One of the things Helen's story really showed us is that the Trump Administration never stopped separating children from their families," she said. "We believe that there are more kids like Helen. We have learned we cannot take this Administration at their word."