Flashback Friday: 15 Years Ago Dawson's Creek Showed Us That a Gay Kiss is Not Just a Gay Kiss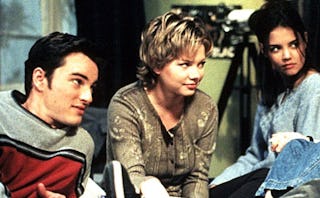 So much has happened since we first saw Joey climb through Dawson's window, and I'll admit it's a little weird to watch the show armed with future knowledge. Michelle Williams scores an Oscar nom and has a child with the late Heath Ledger. Katie Holmes becomes—and then un-becomes—Mrs. Tom Cruise. And that character Jack (played by Kerr Smith) who Joey is currently crushing on? He'll give us TV's first real gay kiss in Season 3.
That was 15 years ago this week. When there weren't very many gay characters on network TV. And so that kiss—a full-on mouth-to-mouth makeout sesh that lasted 5 and a half seconds—broke new ground because we had never seen anything like it before. "A lot of kids out there deserved to see positive images of who and what they are," former exec producer Greg Berlanti, himself an openly gay man, told gaytoday.com.
And he was right. Fast forward to 2014, and for the first time in history, GLAAD's Network Responsibility Index—which rates LGBT content on 15 networks "based on the quality, diversity, and relative quantity of LGBT representations in each network's original programming," according to GLAAD's website—gave scores of "Excellent" (the highest on the scale) to three different networks—ABC Family, HBO and MTV.
So yeah, that five-and-a-half seconds turned out to be kind of a big deal. Even bigger than the Joey-Pacey-Dawson love triangle. It was a true game changer in the way we viewed gay characters on television, paving the way for all of today's awesome LGBT couples—Kurt and Blaine on Glee, Callie and Arizona on Grey's, Mickey and Ian on Shameless, Cyrus and James on Scandal, Kalinda and, um, everyone on The Good Wife—who are proudly taking ownership of their sexuality on the small screen.
Someone should probably ring up Paula Cole and tell her to open up that morning light because 15 years later, the wait may finally be over.
This article was originally published on