There Are Flights Full Of 'Nasty' Women Heading To Washington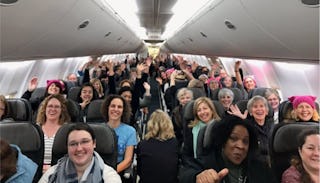 Image via Twitter
They're cheering and having a great time on the way to D.C.
Yesterday, we saw a Southwest flight lit up pink in honor of the Women's March on Washington and today, that spirit continues as social media is flooded with photos of planes full of "nasty" women heading to D.C. to protest the incoming Trump administration.
Just try not to feel excited and proud seeing these women on their way to arguably one of the biggest political protests in American history. Their numbers might not trump (see what I did there?) that of the inaugural events, but an estimated 200,000 women will be at the Washington protest alone, not to mention, the sister marches taking place all over the country and all over the world. In total, millions of women will be making their voices heard. And it's going to be amazing.
The photos give us chills and are doing a great job at conveying the spirit and energy behind these monumental demonstrations.
From a Southwest flight attendant asking how many "nasty women" are on board, to shows of hands proving that some of these flights are almost literally full of only protesters, this is what so many of us needed to see after yesterday.
We're not giving up. In fact, we're just getting started.