Hold On To Your Inner Child -- The Flintstones LEGO Set Is Here
by Julie Scagell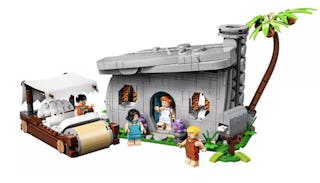 Image via LEGO
This Flintstones LEGO set is way too cute
The LEGO Ideas 2019 winner was recently announced and you and your inner child are going to want to sit down for this one — it's The Flintstones and we're about to have a yabba dabba doo time all up in here.
According to the LEGO Shop website, the box will contain The Flintstones home, curtains and curtain rails, a sofa, TV, paintings, coffee table with fruit bowl (and teeny tiny fruit to go inside), and of course a bowling ball and 3 bowling pins among many other gems.
Most of the original cast will be reunited in LEGO form, including Fred and Wilma Flintstone and their BFF's (and later relatives) Barney and Betty Rubble. The only (and I mean only) downfall is that Pebbles, Bamm-Bamm, and Dino didn't make the cut, but I am confident they will be released as separate figurines down the line (AHEM, LEGO peeps).
The set also includes The Flintstones footmobile, though no official word on if their LEGO doppelganger's tiny feet will reach the floor. It will come with seats, a fabric car roof, and a detachable dinosaur bone, because hello.
The series ran from 1960 to 1966 but kids (and grown-ups) were able to enjoy the cartoon in syndication for decades. They were so much a part of my childhood, I think I've seen every single episode. Twice. But this is the first time I recall seeing a Flintstones-inspired toy where you can actually play in Bedrock. Of course, my children and I faithfully take Flintstones vitamins on the daily, but now we get to play with the crew as well.
If your kids haven't been introduced to the series, you need to do so stat. It's available on Amazon, YouTube, and other streaming services and your kids deserve to see the magic of the characters before they build this set. How else are they going to nail Fred's crabbiness or Wilma's ever-cheerful presence while silently telling Fred to stop his incessant bitching and find a new job if he doesn't like that one? Or at least that's how I always thought it went.
If you've not heard of LEGO Ideas, it's a super cool way for the LEGO commoner to send in ideas they've always wanted to build. You can also scroll through other people's ideas and vote on them to push them to the top. Then, LEGO and their review board chooses the best ones and creates them for the world to enjoy. As if you couldn't love LEGO more.
The Flintstones set will retail for $59.99 and has 748 pieces to build to your heart's content. Plus, when it's done it's definitely going on the family LEGO shelf for all who enter your home to enjoy (please tell me we aren't the only family with one of these). This is one iconic set sure to please even the finickiest of LEGO lovers.
The box is officially available now so run, don't walk, to your nearest retailer or online and voila, you'll be the coolest caveman in the neighborhood.
This article was originally published on