Flip Sequins Are The Perfect Gift For Anyone Who Loves Being Extra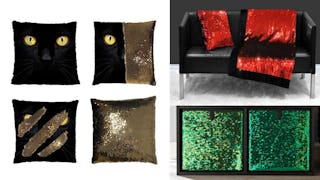 Image via Walmart
My kid is obsessed with reversible sequins and I'm loving them, too.
If your house has not yet been taken over by flip sequins, it's a color-change fabric made with 2-sided sequins that can be "flipped" or reversed to reveal two different colors or images. They can be used to write designs, messages, etc. It's a new trend that's made its way to, well, everything.
The whole family will like some sparkly sequins, but if they're extra (like my kid and me), they'll LOVE them. Here are a few of our favorite flip sequin finds:
This 2-pack of Unicorn Keychains is a great deal at $5.90 and they make perfect sparkly stocking stuffers.
This Dinosaur Pillow turns into a gold sequin pillow in a flip and the fun color change combinations are endless.
This Flip Sequin Throw Blanket comes in a variety of colors and adds just the right of extra to any room. I need this red one in my life ASAP.
This Sequin Pillow is 17″ x 17″ and comes in a variety of colors. This one changes to all silver or all gold, and either way it brightens up the room when the sunlight hits it.
These Reversible Sequin Collapsable Cubes also come in a variety of colors and might actually motivate me to organize my life.
This Flip Sequin Tulle Dress is my daughter's princess dream come true. And it's currently on sale for $20! (Originally $39.99.)
This Squeezamals Unicorn is covered in two-sided sequins and is an adorable 3.5″ tall.
Or if you'd prefer a purple Squeezamals Monkey, we've got you covered. And they're all on sale for $7.99! (Originally $9.99.)
These fun Sequin Flamingo Pillows change color with the swipe of your hand and come in five different designs. And are probably as close as any of us are getting to a tropical vacation in the near future.
Encourage their love of writing and drawing with this Reversible Sequin Journal that changes from blue-green iridescent to black.
The 2-Way Sequin Kitty Backpack is a great gift for any kid who loves changing sequin colors. (Or for any adult. We're not here to judge.)
This 2-Way Sequin Panda Backpack also makes a good gift (because it's halfway through the school year and they all need new backpacks because kids are gross). Changes from black to silver.
The only thing better than this Plush Mermaid Tail Blanket with a flip sequin tail being part of your world is the fact that it's on sale for $9.97! (Originally $16.88.)
These Reversible Sequin Slippers are on trend and will keep your little one's toes warm through the coldest months. They don't come in adults sizes, I already checked.
This Sequin Turtle Pillow will add some under-the-sea magic to your kid's room. If they love mermaids, this is a must-have.
This Sequin Cat Cushion Cover is a great idea for any cat lover in your life. Meowy Christmas. (I'm immediately sorry for that joke.)
It's been a long year, and your friends and fam will be thrilled to have a little something EXTRA. So make the people you love happy with some much-needed sparkle to light up the holidays.
We are a participant in the Walmart.com Affiliate Program and may earn fees by linking to Walmart.com and affiliated sites.
This article was originally published on