'Flirty Dancing' Is The New Dating Show You Had No Idea You Needed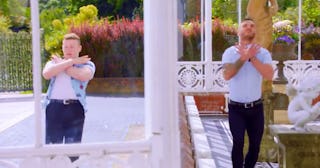 CHANNEL 4
'Flirty Dancing' contestants must perform a dance routine upon meeting on a BLIND DATE
The UK-based reality show, Flirty Dancing, puts two people in a situation that is so intimate and so, well, ridiculous, that it's actually hard to watch — you don't know whether to love it or hate it. Because it makes two perfect strangers who agreed to go on a blind date with one another perform a choreographed dance routine immediately upon meeting.
Basically the two strangers are taught the same dance routine, and then perform it simultaneously once they meet for the first time. Yes, it's cringey. Yes, it's like watching that dream where you show up naked somewhere in front of a million people come to life. But also? The routines are gorgeous and so are the people. It's actually a very entertaining way to watch two people figure out if they have chemistry or not.
The series is currently only airing on British Channel 4, but will soon hit the United States — and honestly, it'll probably be incredibly popular. A clip from the show recently went viral on Twitter, and it's got a lot of people talking. Which is great for TV.
https://twitter.com/jetpack/status/1196246663964217344
Flirty Dancing is a reality show that features people of all genders, sexualities, and ages as they learn a routine from a professional choreographer. First, the couple performs their routines individually, then they perform them together when meeting one another. They immediately separate, then decide if they want to go on a real date with one another. They don't even know one another's names when they're dancing together, and yet it's somehow the most intimate few minutes you'll ever watch.
For introverts and those who don't like to dance, this seems like an absolute nightmare. But for a reality television viewer, it doesn't get any better than this. Truly.
It will premiere in the U.S. next month, and because sometimes we can have nice things, none other than celeb dancer extraordinaire Jenna Dewan will be hosting! The American version will add a competition portion where one person picks between two dancers.
Blind dates are so freaking intimidating in general — will you like them? Will they like you? What will you talk about? What will you order to eat? What if something gets stuck in your teeth? Are your friends prepared to bail you out of a bad date with a faux "emergency?" One good thing about a show like this, is that it eliminates literally all of that nonsense and replaces it with a human interaction so utterly unnatural yet beautiful?
No matter how you feel about Flirty Dancing, you'll be watching.