A Giant Floating Unicorn Island Exists And We Want To Go There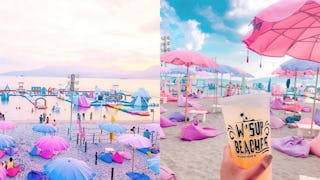 Images via Instagram
Check out this floating unicorn island in the Philippines
If you haven't booked your summer vacation, allow us to suggest this magical, floating, unicorn island in the Philippines. Unicorns are everything and everywhere right now, so it makes total sense to have an inflatable playground made up of them. This is even better than your huge unicorn pool float, we promise.
The inflatable island is an Instagram fantasy come to life. Between the sparkling water, mountains in the distance, and the pastel umbrellas and loungers this place was made for the 'Gram.
It's pretty big, too. According to its website, the Inflatable Island is "the biggest floating playground in Asia." And they just expanded. "We are now over 4,100 sqm! That's as big as eight basketball courts put together side by side," the company said.
The whole island includes slides, towers, swings, bridges and human launchers. There's also giant, unicorn floats for lounging in case you're looking for a more chill vibe. And if you're one of those crazy people that likes to exercise at the beach, there's a huge area for swimming and paddle boarding.
Since the water near the Inflatable Island ranges from four to 15 feet, all visitors have to wear a life vest. There are plenty of lifeguards on duty so even if you're not the best swimmer you can still make your unicorn beach dreams come true.
And you can bring the kiddos because who doesn't love unicorns. "There is no age limit; however, for younger children (3 feet to 4 feet tall), we require a 1:1 adult-kid radio," the company said on its site. "Inflatable Island requires all participants to be at least 3 feet." And it's pretty cheap. The entire day pass for one person is only $16.32. I don't think there is a single water park in the U.S. where you can get an adult in for under $20. There's also no water parks that are all unicorns, all the time, so this is basically the bargain vaca of the century.
Plus, once you're done flocking among the unicorns, there's a great relaxation area – the Pink Bali Lounge – that's perfect for an afternoon of daydreaming.
Sign. Us. Up.
This article was originally published on