15-Year-Old In Hospice Had To Miss A Florence And The Machine Show, So They Came To Her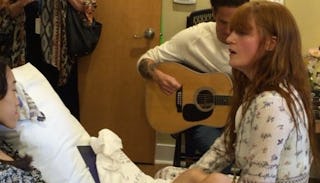 Florence Welch sang a moving duet with a 15-year-old fan in hospice care
On Friday night, Florence And The Machine rocked a sold out show in Austin, Texas, but it's the performance the band's lead singer gave prior to the concert that has everyone talking. Frontwoman Florence Welch took the time to meet up with a teen in hospice care for a heartwarming private show.
The 15-year-old fan, Karinya, had tickets to attend the concert with her best friend, but was unable to go after doctors deemed her too sick to travel even a short distance. Her mom, Catherine Chen, writes on Instagram that the teen has been living with malignant paraganglioma of the thoracic spine for four years. Currently, she's undergoing care at Hospice Austin, where a dedicated team worked a miracle to bring the teen's favorite artist to her bedside.
Welch showed up with her guitarist, Rob Ackroyd, and performed two songs — "Shake It Out" and "Dog Days Are Over" — as the teen and a group of her friends sang along. Karinya's mom shared a video of the performance on Instagram, writing, "Florence of Florence + The Machine is such a beautiful and kind soul!! She brought so much joy to all of us today. What a blessing!!"
Hospice Austin also shared a video from the performance that's since been viewed more than 400,000 times. In it, Karinya sings along with every word of "Shake It Out" as her friends provide background vocals. Even with all the other people in the room, you can see the connection Florence and Karinya share, and it's so beautiful this teen got a chance to experience that.
Christie Kramer, a nurse at the facility, described on Facebook how they got in touch with Welch, and what an amazing gift the performance was. "Through a remarkable team effort on the part of Christopher House and Hospice Austin Staff, we were able to make contact with Florence," she explained. "My patient's mom was so nervous – will she really come? Is she here yet? She kept popping out of the room and checking. And Florence came."
Kramer says the teens' mom "burst into tears" at the sight of Welch, and the singer gave her a big hug, before walking into Karinya's room, which was "stuffed to the gills with teen friends." Rather than sharing the concert solely with her BFF, Karinya got to experience those magic moments with an entire group of people who love her by her side, and it's a memory I'm sure they'll all cherish.
It's nearly impossible to imagine what this teen and her family are going through, but it's incredible that Welch was able to use the simple gifts of her time and her talent to infuse so much joy into such a difficult time. "There were shrieks and squeals and so much joyous music and singing and tears and tears and tears of grief and joy and hope and love and utter devastation," Nurse Kramer recalled, "And somehow simple kindness made everything better."
This article was originally published on