Florida High School Alters Girls' Yearbook Pics To Hide Their Chests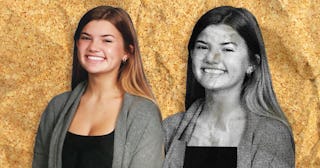 Courtesy of Stephanie Fabre and bgblue/Getty
The school digitally altered the yearbook photos of 80 young women in the name of "modesty"
Are you ready for your daily dose of rage? Hopefully you said yes, because this story is truly infuriating. A high school in Florida decided to perform some (really bad, TBH) photoshopping to cover the upper chest areas of 80 female students in the school's yearbook. Because apparently we've time-traveled to 1952.
Bartram Trail High School in St. Johns County, Florida opted to alter the photos of dozens of girls whose picture day attire was apparently deemed to be in violation of the school's dress code, which says girls' "tops and shirts must cover the entire shoulder and they must be modest and not revealing or distracting." The school's website reads that yearbook photos "must be consistent with the St. Johns County School District Student Code of Conduct or may be digitally adjusted."
District spokeswoman Christina Langston told The St. Augustine Record (per The Baltimore Sun) that a teacher who is the school's yearbook coordinator made the edits on the girls' photos. "Bartram Trail High School's previous procedure was to not include student pictures in the yearbook that they deemed in violation of the student code of conduct, so the digital alterations were a solution to make sure all students were included in the yearbook," she says.
Riley O'Keefe, 15, is one of the students whose photo was digitally altered. "They need to recognize that it's making girls feel ashamed of their bodies," she tells The Sun. O'Keefe's mom, Stephanie Fabre, attended a school board meeting to help call for changes to the school's dress code. O'Keefe's stepmom Taryn O'Keefe is in the fight too, saying, "They're all good students, and we're going to focus on whether you have too much shoulder showing? It's out of control."
Riley O'Keefe and parents who saw the yearbooks say there was no change to photos of male students including the swim team, clad in Speedo bathing suits. Huh. Funny how that works.
Another district mom, Adrian Bartlett, is speaking out on behalf of her 15-year-old daughter Brooke. The teen's yearbook photo included a poorly photoshopped square of her plaid-patterned shirt placed over her chest.
"The school did a horrible job of protecting our children's mental health by body-shaming," Bartlett tells The Sun. "It's making our kids feel like they should cover up their bodies, they should be ashamed of them, and it was humiliating for many of them."
After an incident in March involving school admins standing in the hallway, calling out girls or removing them from class for violating the dress code, a petition created by Riley O'Keefe to change the code circulated and ultimately collected almost 5,000 signatures.
Bartlett tells Scary Mommy that the district is stating that they will change the dress code but that "the proposed edits were laughable." Fabre tells us that it sounds like yearbooks won't be reprinted, despite parents, including Bartlett, asking for that to happen. "We've been given no indication that the school has any intention of reprinting the yearbooks but has acknowledged that the dress code needs to be changed," Fabre says.
To add insult to injury, Langston says the school is offering refunds and "receiving feedback from parents/guardians/students on making this process better for next year." As far as those refunds? Bartlett tells us that technically, that's not possible because it would mean kids giving up their yearbooks and in order to get money back, "it can't have any writing in it." Bartlett says that's "unrealistic" as "the first thing kids do is have their friends write in it."
Isn't it time that schools realize it's not ok to shame young women for their bodies and the clothes they wear? To make them miss actual class time because their attire doesn't meet a ridiculous and outdated dress code? Is this really where we're at in 2021? Apparently in some schools, it is. That's why the students and parents speaking out against it should be applauded for trying to pull their districts kicking and screaming from the Dark Ages.