Florida Will Now Require Mental Health Education For Public School Students
by Madison Vanderberg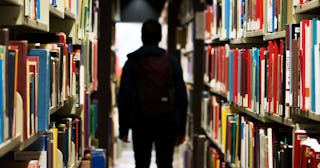 Banter Snaps/Unsplash
Florida public schools will now teach a required mental health education class starting in the 6th grade
Florida public schools are now required to teach mental health education classes starting in the sixth grade. The new ruling states that middle and high school students will receive at least five hours per year of mental health education.
"Time is a critical factor. Approximately 1 in 5 youth in Florida, and worldwide, experience mental health disorders prior to turning age 25," according to a statement alongside the ruling. "Mental health literacy components that are key to well-being include understanding how to optimize and maintain good mental health; decreasing stigmas related to mental health; enhancing help-seeking efficacy, and understanding mental disorders and treatments. Mental and emotional health education can positively impact areas including, but not limited to, teen suicide, bullying and cyberbullying, and opioid and alcohol addictions."
Although it's only five hours per year, it's a start, and the curriculum aims to help students recognize the signs and symptoms of mental health disorders and how to get help. Currently, only New York and Virginia have required mental health curriculums, which they implemented last year.
Florida, specifically, took mental health care more seriously after the Marjory Stoneman Douglas High School shooting, as the 19-year-old shooter had a history of mental health problems.
Florida First Lady Casey DeSantis — who is the chair of the state's Children and Youth Cabinet — is very passionate about the new ruling.
"As I travel the state, I am hearing from many families and know that 50% of all mental illness cases begin by age 14, so we are being proactive in our commitment to provide our kids with the necessary tools to see them through their successes and challenges," DeSantis wrote on Twitter.
The 2019 State of Mental Health in America report stated that 62.4% of youths in Florida who reported major depressive episodes last year did not receive any mental health services to treat their depression. Sadly, Florida's statistic was on par with the rest of the country. Although this new program only aims to educate students — that education can hopefully lead students to seek out treatments outside school.
Commissioner of Education Richard Corcoran is so optimistic about the program, according to a statement given to HuffPost, because it's the first step in his plan to make Florida "the number one state in the nation in terms of mental health outreach and school safety."
A number of concerned parents want to know who would be teaching these classes. According to the ruling, each school is required to submit their curriculum to the district along with the "professional qualifications of the person delivering instruction."
This all remains to be seen, but it's a solid start — and if more schools and states adopt this practice, perhaps schools might actually start providing necessary mental health services like free or subsidized talk therapy which could benefit all students.
This article was originally published on