Superhero Mom Fights Off Armed Carjackers With Her Kids In The Backseat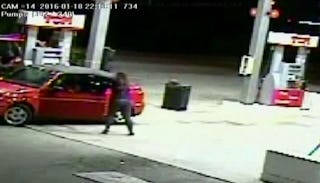 This Florida mom stopped carjackers from stealing her car with her children inside.
Some would-be carjackers tried to steal a car from a Florida gas station, but their attempt was foiled by an ass-kicking mom who fought back. Fox12 reports the mom — whose name hasn't been released — was filling up at a Tom Thumb gas station when two armed, masked man ran up and attempted to steal the car on the other side of the pump. That car's owner locked herself inside, so they turned their attention to the mom's car. One got in the passenger seat, and the other attempted to climb into the driver's seat. What they didn't know is that the woman's two children were in the backseat.
In surveillance video from the gas station, the woman can be seen yanking open the driver's side door, hitting the man, pulling off his mask, and dragging him out of the car. The two men then run away like a couple of scared kittens, and the woman straightens her clothes and returns to finish pumping her gas.
The attackers ran to a nearby getaway car driven by a friend, but the speed of their attempted getaway attracted the attention of a passing police officer. They crashed into a fence and then were arrested on charges of attempted carjacking and fleeing the police. They're currently being held on $25,000 bond. Police also confiscated three handguns from their vehicle.
Carjacking only amounts to about three percent of all automobile thefts in the United States, but that doesn't diminish the fact that it's a serious and potentially deadly crime. According to the State Department, experts advise not to fight back if you're being carjacked — especially if there is more than one attacker and they're armed — but when your kids are in the car, what else are you going to do?
No doubt this mom's instinct to protect her children kicked in and took over completely. That's what happens when you're a parent: you will put yourself in harm's way and do things you never thought possible just to keep your children safe. Even the wimpiest among us would've done exactly the same thing in the heat of the moment.
This mom not only prevented a crime and saved her kids, but she also showed them how quick-thinking and strong she really is. Thank goodness the carjackers didn't harm her and she was successful in fighting back. A mom pumping gas might seem like an easy target to a car thief, but as this lady showed, we've all got crime-fighting badasses inside of us.
This article was originally published on