FL School Tightens Mask Policy After Chiropractor Signs 100s Of Exemptions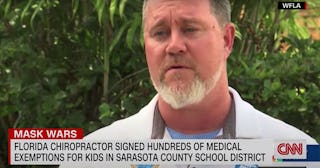 CNN/Youtube
A Florida chiropractor signed hundreds of mask exemptions and now the school is changing their policy
A Florida school district had to update its mask policy, after hundreds of students submitted medical exemption letters all signed by the same doctor — who, it turns out, wasn't actually a medical doctor.
The Sarasota County School Board originally voted back in August to mandate masks for all, but with exceptions for anyone with a medical reason. Just a few weeks later though, on September 1, the board had to clarify that policy and note that any exemption had to come from a medical doctor (or registered nurse practitioner).
That's apparently because Dr. Dan Busch was offering to sign exemptions for literally hundreds of students. And while he does have "doctor" there in his title, he is not in fact a medical doctor. He's a chiropractor. And while he's probably helped plenty of people with back or neck pain, it's hard to see what expertise a chiropractor has with a deadly respiratory virus.
The school district ended up rejecting about 650 exemption forms submitted by students, and while they didn't give an exact number, they did say that most of them came from Busch.
"Every evaluation that I performed was very specific, and I performed them in my scope of practice," Busch said in an interview with WWSB last month. "I had to stay very specific to the diagnoses that were in my wheelhouse; there are plenty that weren't." Yeah, um, obviously. Busch's lawyer also said that he "turned away people who did not have a medical reason that warranted an exemption."
Busch further justified his actions by telling CNN, "This wasn't about me. This is about parents' freedom." One parent claimed that Busch was signing the forms for free, so at least he wasn't making money off the questionable scheme (which plenty of people have tried).
The students who had turned to Busch for their exemptions were given some time to go back and get a letter from a medical doctor, but I wouldn't be surprised at all if they weren't able to — why go to a chiropractor in the first place then?
The battle over masks in school is a big one in Florida — the state's governor has tried to ban mask mandates altogether, and that fight is still making its way through the courts. As for Busch — while he isn't facing criminal charges or anything like that, at least one person has filed a complaint against him with the state's Department of Health.
Janet Bryan, who is herself a healthcare practitioner and the grandparent of a student, shared the details of that complaint with WWSB. "There would be no knowledge and training to diagnose the patient with illness that would need an exemption. Most pediatricians have refused to give these waivers to protect them in our public health emergency except for an extremely rare instance when it is truly warranted," she said.